Our Latest Great Place To Eat - Ramen Kitchen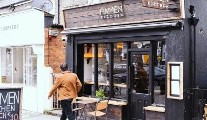 Tuesday 08 October 2019
Set in the hottest place for casual eateries in Dublin right now, Stoneybatter, the Ramen Kitchen is as dark and 'authentic' looking as what you might find in a little village in Japan. It probably seats a couple of dozen at its high tables, and those beside us turned over two or three times with quick bowls of noodles being slurped.
It's not just restricted to ramen; there's lots of other popular Japanese stalwarts. A dozen or so starters had yakitori, gyoza, and, of course, the bao bun. There was a section of Donburi Katsu curries and Battered Tendons – yes tendons – plus Bento boxes, and a great selection of Sushi including Maki – filled rice rolls; Temaki – nori cone shapes; Ngiri – fish or vegetable laid on sushi rice; Hosomaki – nori-wrapped rolls; and finally sashimi – thin slices of raw fish.
We kicked off with yasai (vegetable) gyoza, which was a long plate of crimped half-moon-shaped green dumplings, lightly-seared on one side, and served with gyoza sauce; while Ebi Tempura, a quintet of tempura-battered jumbo prawns, were hot, crispy and absolutely delicious with a tempura dipping sauce.
We followed up by sharing a soft shell crab roll from the sushi maki section, which was superb, both by way of its contrast of textures and its flavours. Cut into eight pieces, it was filled with crispy tempura-cooked soft-shell crab, mixed with slivers of avocado and a delicious spicy mayo, and topped with masago – little bright red eggs of caplin fish roe – with pickled ginger and wasabi. Now that's a keeper!