Restaurant Review - Le Perroquet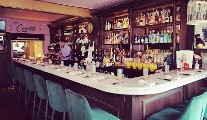 Wednesday 18 September 2019
The Twitter glitterati were swarming over the new Le Perroquet on its 'soft opening' nights, swamping social media with selfies, and gushing about the ab fab wondrousness of this new bar and restaurant on Upper Leeson Street, which has TV celeb Nick Munier to the fore, and hot young chef and co-owner Chris Fullam at the stove.
Well, I guess a few cocktails and natty nibbles give first nighters a warm glow before they Insta their way to the next new hotspot! This long-awaited French 'parrot' – which is part of Frank Gleeson's Townhouse Leisure group - had been gestating since last year, squawking intermittently with, 'Opening shortly...and shortly...and shortly...'
It's all about restaurant groups in Dublin, but nobody has the overall domination of the Press Up Group, which has 47 venues, including the new 200-seater Doolally Indian restaurant on Richmond Street; a nearby Chinese place to come; The Mayson Hotel on North Wall Quay, to open pre-Christmas; and The Devlin in Ranelagh. That doesn't even touch on its plans for Bray, Cork and Limerick.
Prior to the Townhouse Group, Frank Gleeson was involved with the Mercantile Group (Cafe en Seine; The George; and Pichet) before a high profile court case and split in 2017. Gleeson had originally set up Pichet ten years ago with Nick Munier; Munier's ex-wife Denise McBrien; and Stephen Gibson – who is still at the helm there; so there's a long connection between Gleeson and Munier.
Slipping in on its first weekend, Nick was in great form after what has been a difficult spell for him, too. Munier, a former Marco Pierre White Maitre d' – who sprung to fame way back on MPW's Hell's Kitchen – had more recently appeared on the short-lived Irish version of Masterchef before selling his share of Pichet and setting up Avenue, an ill-fated venture in Temple Bar.
Paris to New York
The trio have brought a splash of Parisian kitsch to D4, but with chic contemporary food, a la New York's famous Pastis, executed exquisitely in his own style by Fullam. The ground-floor bar, with a half-dozen 'romantic' tables bedecked with flowers and little table lamps, is walk-in only, with reservations upstairs. The menu is 'petit plats' (€6-€14) with sides (€4.50), house-made desserts (€8) and fromage (€12.50). Ricard pastis based aperitifs were €5, so my friend Paul downed a classic Perroquet cocktail of Ricard and mint syrup, while I had my fave tipple of Campari and soda (€7).
Eschewing beef tartare; and goats cheese and fig salad, we kicked off with three small plates from the lower end of the price scale (€6 each). The first had two wavy feather-shaped rice crackers holding diced mussels, crispy chicken skin crumb and oyster cream, and was a superb blend of sea, sand and samphire.
The second featured an egg yolk, shimeji micro mushrooms, silky leek, and sauteed potato, offset with divine crisp panko-crumbed anchovy sticks, while the third, a more robust choice, was a beltingly rich, succulent, duck croquette with scallion and leaves. All incredible value.
We followed on with gigot d'agneau roti (€12), for Paul, which came with pommes de terre et algues. It was a superb pink leg of lamb, with beetroot, and roast potatoes dusted with seaweed powder and a jus. I loved my choice of delicately-charred monkfish (€14), matched with chunky cuts of celeriac, shavings of sweet charred sweetcorn, the subtlety of tarragon, and a light curry sauce.
To finish, we ordered a strawberry and ginger mille-feuille with rhubarb and ginger sorbet (€8) — worthy of any fine Parisian patisserie – and a selection of Irish & French cheeses, including Milleens, Cashel Blue, and Comte, with pear chutney and crackers (€12.50).
With a bottle of Mas De Mas, Picpoul de Pinet 2017 (€34) and a double espresso (€3.50), our bill with service came to €126. By the way, their midweek lunch special of two small plates with one side and a house beverage is only €16.50.
Serge Gainsbourg was crooning away on our departure, as yet another big car of affluent neighbouring socialites wheeled up to introduce themselves at what will undoubtedly be their local.
So, gushing like the first-night bloggers – we simply couldn't get enough of Le Perroquet.
Le Perroquet
133 Upper Leeson Street, Dublin 2.
Tel: (01) 677-1223
leperroquet.ie
lucindaosullivan.com
First Published In The Sunday Independent