Restaurant Review - Michelin Mulling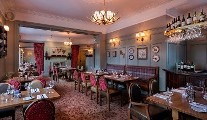 Wednesday 11 September 2019
With the silly season behind us, we're now into foodie serious-season territory. On October 7, the Michelin Guide will be announcing the recipients of their 2020 Stars for the UK and Ireland, and while some chefs will be in a fever of expectation, others will be dreading it. Michelin love to shock and surprise, as with the dropping of Kevin Thornton's star a few years back, and, more recently, when the three Star La Maison des Bois in France was demoted to two Stars, as Michelin claimed that chef Marc Veyrat had, oh lawdy, used Cheddar in a souffle! It all garners publicity for Michelin, but sometimes at a terrible cost to chefs – a few have even taken their own lives.
The Rebel County was set alight last year when three of its new restaurants – Chestnut in Ballydehob, Mews in Baltimore and Ichigo Ichie in Cork City – had been recognised. Michelin have always been very precious about themselves, simply announcing the winners. However, the advent of the World's 50 Best Restaurants, saw Michelin change to live award ceremonies, delivered, so far, with all the style and panache of the local town hall.
Get the picture?
Michelin, and indeed the World's 50 Best, have always been mean with Ireland. It costs money to have inspectors on the ground, so I'm always dubious about how many places they actually visit. With social media, it's much easier now for them to target candidates – however, I was surprised to receive a request from Michelin to use some of my photos on their feed – a foodie friend of mine also received the same request. It makes me wonder whose photos I'm actually seeing when Michelin posts their pics.
They've delved into Kilkenny before, so I set off to one of the county's hot new restaurants, Lil's at Avalon House Hotel in Castlecomer; as well as the one-Michelin-Star Campagne in Kilkenny, having lunch in both. Restaurant Lady Anne at Creamery House in Castlecomer is also new, but was closed on our visit.
Lil Restaurant, lots of taste
A bucket of money has been poured into turning the picturesque Avalon House on Castlecomer's Square into a hip country-house hotel with stunning decor, and an emphasis on great food by chef Cathal O'Dowd. The lunch menu at Lil's, while casual, was smart, sassy and on point with today's new Irish food. Starters were €6, but most could be had as larger plates too. Smoked haddock fishcake was with baby leek and caper aioli; hot & sour chicken wings were there; while mains (€9.50-€13), included wild mushroom macaroni, with cheddar cheese crumb, and aioli with roasted chickpeas; and Beef & Guinness casserole. Eschewing a fab looking Hereford beef burger, Brendan had a simple but sublime salad of St. Tola Goat cheese, with figs, baby leaves, quinoa and beetroot dressing (€10.50). I had a delicious Kilmore Quay fish pie of salmon, trout, hake and cod (€12), which had a light fluffy charred potato topping, and came with fries and a little summer salad. To finish, we shared raspberry tart (€6) with a creme Chantilly and ice-cream, which, with two Cokes (€2.60 each) and service, brought our bill to €37.70.
Insta-perfect
Garrett Byrne and Brid Hannon's Campagne, adjacent to a bridge on Kilkenny's unglamorous Gas House Lane, is cool and sophisticated but delightfully unpretentious. From its terrific lunch menu (€38), my friend Mary started with a tomato bavarois, with goats cheese and chickpea fritter, tomato, fennel and black olive, which sang of the French Riviera. Meanwhile, I had a fantastic vol-au-vent — yes, vol- au-vents are back — which was filled with luscious lobster in a bisque. Mary followed up with a plumptious raviolo of mozzarella and ricotta, which was overflowing with smoked aubergine puree and pesto, while my superb roast hake came with aubergine and red pepper relish, confit fennel and roast fish sauce.
We rounded off our lunch with a divine Insta-perfect elderflower jelly, passion fruit ice-cream and brown sugar tuille, and a lemon posset with blueberry compote, creme fraiche and lemon shortbread. With two coffees (€7.45), bottled water (€5) and service, our bill came to €97.45. A gem.
Lil's
Avalon House Hotel,
The Square, Castlecomer, Co. Kilkenny.
Tel: (056) 444-1302
avalonhousehotel.ie
Campagne
Gashouse Lane, Kilkenny.
Tel: (056) 777-2858
campagne.ie
lucindaosullivan.com
First Published In The Sunday Independent