Restaurant Review - The East Room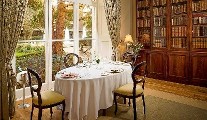 Wednesday 04 September 2019
I hadn't realized that the University of Limerick campus was so beautiful. Acres of lush green parklands blending perfectly with ultra modern buildings, almost in the style of iconic architect Frank Gehry, from the extraordinary wood-fronted Nordic-style Health Sciences building with its wave-like roof; to the Sports Pavilion; the award winning cubed Graduate Entry Medical School; not to mention the 350 metre cable truss steel pedestrian Living Bridge spanning the River Shannon. For some reason it felt like being in an American movie, perhaps added to by the fact that our destination, the 19thC Plassey House, reminded me a bit of the White House.
The East Room at Plassey House opened a year or so ago as a restaurant, and I'd been longingly eyeing its Instagram feed ever since. However, it only opens for lunch from Tuesday to Friday from 12.30pm-2.30pm and on Friday and Saturdays for dinner, so the window for hitting the road at the last minute, which is my wont, was a tad restrictive.
And indeed, true to fashion, at the 11th hour, I got in for lunch on a Friday by the skin of my teeth, virtually begging for a table, being told to be there by 12.30pm on the button as they'd a couple of big groups in. Consequently, traversing the endless M7 roadworks pre and post Naas, I was a nervous wreck by the time I got there — but I was so glad I did.
Plassey House is a beautiful historic Palladian-style mansion at the centre of UCL, preserved as an important venue for meetings and events, and it's where the President of the college and his immediate staff are located. It also hosts some of UCL's visual art collection, including paintings by Mainie Jellett, Evie Hone, Paul Henry and Jack B. Yeats.
Chef Patron Derek Fitzpatrick is doing an extraordinary job. He's not jumping up and down drawing attention to himself, so I'll shout it out for him. This guy's food is Michelin level! The UL rooftop garden, a few hundred yards away, supplies veg and herbs to the kitchen, augmented by foraging on campus and nearby in Glenstal for things like woodruff, wild horseradish and elderflower.
Patriotic salmon
The lunch menu offered 1/2/3 courses at €20.50/€27.50/€32.50 with a choice of three starters, four mains and two desserts. Eschewing leek and potato veloute with truffle oil and hazelnuts, friend Mary had a picture-perfect foie gras parfait rectangle, which was beautifully embellished with wafers of walnut, nasturtium leaves, bee pollen, and served with fingers of wonderful burnt apple sourdough.
I had what was an almost patriotic green, white and orange presentation of salmon, which was equally pretty and summery. Two cubes of cured salmon, topped with the most divine grapefruit jelly and smoked creme fraiche dots, were offset with a little blob of Doonbeg crabmeat, chunks of cucumber and fennel, and vibrant orange nasturtium flowers. The grapefruit jelly and the dressing were the perfect foil, cutting through the natural oiliness of the salmon.
Mains included Andari pork belly with salt-baked celeriac, kale and tarragon, while braised beef was with a king oyster mushroom, shallot and creamed potato. Mary was delighted by a stunning dish of violet artichokes and shitake mushrooms, interspersed with long-stem broccoli, sitting in a mushroom broth, with a duo of smoked eggs, all pleasingly enhanced with little purple and blue flowers. For me, a fine tranche of salted hake, skin side up, slashed and perfectly seared, sat in a wild mussel sauce, topped with burnt leek, and dusted with black truffle.
A pre-dessert of strawberries 'cut' with meringue shards and a sheep's milk sorbet, was the perfect lead-in to the richer 'proper' desserts. Presented in glasses, a natural yoghurt panna cotta had summer berries and blackberry sorbet while banana mousse came with peanut ice-cream, chocolate and lime.
There's an excellent well priced wine list, which we weren't indulging in, apart from a glass of Main a Main unoaked Chardonnay Pays d'Oc 2018 (€7) for Mary. With a double espresso (€3.70) for me and an Americano (€3.25) for Mary, our bill with service came to €88.
I'd brave the roadworks again in a heartbeat.
East Room Restaurant,
Plassey House, UCL
Castletroy, Limerick.
Tel: (061) 202-186
eastroom.ie
lucindaosullivan.com
First Published In The Sunday Independent