Our Latest Great Place To Eat - Eatokyo Talbot Street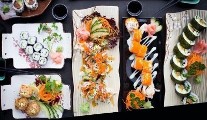 Thursday 22 August 2019
Open seven days a week from noon, Eatokyo is beloved by the office lunch hour brigade who delight in their bento boxes and sushi selections, but it's also a modern atmospheric restaurant with great lunch and evening menus, perfect for any occasion.
There's lots of sushi to try at Eatokyo like tuna or salmon sashimi, or their well-priced two-piece portions of nigiri, from seabass to prawn to eel or octopus, and everything in between. Their Maki and Norimaki offerings are equally impressive with plenty of familiar and not so familiar things to try.
On our visit, we went with their a la carte menu, which had a great selection of starters included the likes negima yakitori, Skewers of grilled chicken and scallion coated in teriyaki sauce and shichimi powder; homemade pork gyoza dumplings; Asian style chicken wings; as well as ebi tempura, black tiger prawns in a light batter with a tempura sauce. I went for the ebi gyoza, a delicious collection of prawn and garlic chive dumplings, steamed and grilled and served with a tasty gyoza sauce. Meanwhile, friend Mary enjoyed a 'seafood age ball', a deep fried mix of prawn, squid, garlic and almond with some spicy mayo on the side.
There's lots to choose from when it comes to mains. There're ramen dishes with beef, chicken, seafood and veg options as well as grilled dishes from the teppanyaki being served with steamed rice. From the wok, they have fried noodle dishes like kung po chicken noodle; yaki udon, with the thick noodles meeting chicken, prawn and seasonal veg in a curry paste; as well as the old favourite of Singapore noodle. Mary stayed with her nautical theme with seafood cha han, an egg fried rice dish, from the wok, of tiger prawns, squid, salmon, tuna, peppers, sweetcorn, onion, mushrooms and broccoli, served with a bowl of miso soup.