Restaurant Review - Little Mike's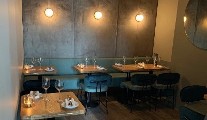 Wednesday 10 July 2019
With skilful use of social media, gregarious and ebullient chef Gareth 'Gaz' Smith has turned himself into one of the best-known characters in the restaurant biz. His larger than life litany of playful tweets of himself, his team, and his family, have attracted a huge following.
Of course, you have to have more than a sense of humour to back up all this blagging or bragging, and his pictures of great big seafood platters laden with Dublin Bay prawns, lobsters from Howth, and his encouragement of kids to eat more fish have drawn people from far and wide to his Michael's of Mount Merrion restaurant.
"Nothing fancy. Just honest grub. The kinda casual spot you'd love on your street." This is how Smith describes his restaurant, but don't be taken in – he and Talha Pasha – whose passion is his wine list – are two of the smartest restaurateurs I've come across.
Smith is a long time in the industry. He was in 1014 in Clontarf, before it closed in recessionary times, and subsequently worked in an Irish gastro pub in Vienna, Austria. I first got a taste of his food and wrote about him when he, with business partners, reopened Clonskeagh House. That collaboration didn't work out and he moved to Michael's in Mount Merrion, a small Italianate neighbourhood restaurant, which he subsequently bought and turned into one of Dublin's seafood destinations.
Now, Smith and Pasha, have given us Little Mike's, with Keith Hallissey as Manager, and, to misquote Smith, it's just the kind of wine bar you'd love to have on your street. When Smith tweeted that he was looking for a good chef to join his squad, his criteria was "no arseholes, no shouters, no tweezers, no foams, no salt bae. Sharp knives and a good capacity for Sunday night pints. Must be ice cool under pressure, a generally nice person, with an analytical eye for detail."

While Michael's is rustic and charming, Little Mike's is cool and sophisticated. Just a couple of doors down from the mothership, it's pretty tiny, with three dining counters in one section and a small exclusive snug with an 8/10 seater banquette and a couple of loose tables. For me, the snug, with its expensive cushioned velour walls, will be forever be – sorry Gaz – the padded cell. It's a gorgeous little sanctuary, but you wouldn't be discussing your life's secrets there.
Warned in advance
Seafood is the main thing here, with small (€6-€12) or large plates (€24-€31); plus larger plates or sharing platters of lobster, prawns and crab claw combos with fries (€29-€45). We went down the small plate route, creating our own tasting menu.
Lambay Island whelks (€6) carried the warning, "Not sure about whelks? Try em. Don't like em, no charge!" I hadn't had them for years but, chopped up and drenched in garlic, ginger and lemon butter, served on a crouton, I'm a convert. Everything at Little Mike's seems like it's dripping with delicious butter combos, and everything tastes better with butter!
Next up were grilled whole Dublin Bay prawns with salt & lemon (€12), resplendent in their shells, served with aioli, sea salt and chargrilled lemon. As we tucked in, we could but think how those finicky French folk would sing La Marseillaise for those in France.
A couple of chargrilled sardines (€6) with lemon, mayo and romesco, shared a platter with two divine scallops (€8) in their shells, served with gremolata, capers, and hollandaise. We topped our fishy feast off with a 'small' Lambay Island crab and Wexford prawn gratin (€15.95), which had crab claws the size of a baby's fist; more gorgeous Dublin Bay prawns; and a side of hot crispy fries (€3.95).
Endless corks to pop
Chocolate tart was the dessert of the evening, but we had lovely stinky fried Gruyere cheese (€8) dripping with honey.
Talha's wine list is huge, with lot's by the glass, which is the route we chose with a glass of organic summery rose, Fontana Bodega, Mesta Rose 2017 (€6.50); a glass of another organic, light citrussy Sicilian, Vinuva, Grillo 2017 (€6.95); and a glass of alcohol-free Torres Natureo muscat (€6), which I love to see as an alternative to minerals or water. So, with service, two coffees (€2.80 each) and bottled water (€2.95), our bill came to €97.90.
Little Mike's

Deerpark Road,
Mount Merrion,
Co. Dublin
Tel: (01) 212-3725

michaels.ie
lucindaosullivan.com
First Published In The Sunday Independent