Our Latest Great Place To Eat - 360 Cookhouse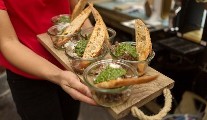 Tuesday 09 July 2019
They open throughout the day doing great gourmet coffee, cakes and baked goods as well as a varied daytime menu with something for everyone. However, having heard good things, I was there for an evening visit with pal Rena in tow.
Warm and inviting with an exposed old brick wall interior and their lovely pergola terrace, we felt we were onto a winner as soon as we'd arrived. Bagging a table to the side we eagerly perused the menus, which were, in a word, substantial.
If you just fancy a bite or you want to mix and match, their small plates & tapas menu has lots to choose from, like a duck liver parfait with pear and shallot chutney, pickles and crostini; spiced fried white bait with dressed leaves, lemon and garlic mayo; as well as their 360 chilli and coriander chicken wings with a tequila lime dipping sauce and chilli jam. Patatas bravas was there, with a smoked paprika aioli, while a Fivemiletown goats cheese salad had new season strawberries, melon and pickled walnuts.
If you'd prefer to go the more traditional route, there are plenty of great mains on offer, from roast rack of pork with chilli and garlic tender stem broccoli, mango lime salsa and Lyonnaise potatoes, to a classic penne arrabiata. Their seafood menu includes both pan-roasted hake and pan-fried seabass, with fresh daily specials too. The carnivores are well catered for with a variety of Hereford steaks – ribeye, fillet and T-bone – not to mention the selection of gourmet burgers available. If pizza is your thing, then check out their menu of fresh stone-baked offerings from a classic Margherita to the "Spice of Life". They even have a Fuss Pot menu for those among you who just want a plain burger or breaded chicken with fries.
I reverted to the tapas menu ordering three small plates, starting with the Castletownbere dressed crab, delicious and fresh with its burnt apple puree, julienne apple and piece of crispy crostini. I followed this, staying at sea, with a dish of beetroot & Blackwater gin cured salmon Gravalax, which was absolutely perfect with a little dill salad, lemon aioli and a piece of sourdough, not to mention my accompanying order of the aforementioned patatas bravas with its smoked paprika aioli.