Restaurant Review - Old Post Office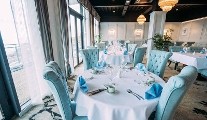 Wednesday 03 July 2019
All the little birdies of SoCoDu were twittering about the €1.6m renovation of Blackrock's old post office for a new fine dining Chinese restaurant – even more so when the menus revealed set dinners at €70, €90 and €120. It's opening had been awaited for months and I was looking forward to some of "the finest Chinese Sichuan cuisine in a European fine-dining style and setting" as per their press release. The decor is certainly very pretty, and there's a bar, but the big attraction is the fantastic view over Dublin Bay from the main dining room. However, if you're extolling fine-dining at very high prices, then the food, service, and attention to detail needs to be on the nose. You make sure there's loo paper in the bathrooms; you don't seat people right beside the only couple in an empty room; you don't bring out the food and leave it on the table unless both people are present.
Expensive tastes
There's an a la carte menu but "the focus is on tasting menus...for parties of two upwards." They did little to excite – no real luxury treats – no lobster; no oysters; no crab, ginormous Alaskan, soft shell or otherwise; no abalone; nor was there any challenging Chinese exotica to test our palates. It was mundane stuff. The €70 per person menu main courses included monkfish or corn fed chicken. For €90 – remember that's €180 for two – there was a half Peking duck to share; hot & sour soup; beef in black bean sauce; king scallop; a lamb chop; and a dessert selection plate. At €120 per person – €240 for two – they add a glass of Bollinger, a king prawn, and sole on the bone.
The sound of silence
And so, we constructed our own 'tasting' from the a la carte. There wasn't much largesse or flexibility either. An amuse bouche would be fairly normal in upmarket restaurants nowadays; here, I was almost wishing for a few old prawn crackers as we stared across the Bay in a hushed atmosphere. I asked if I could have the "Signature Skeaghanore Peking duck" (€28), but for one, rather than two, which was met with a resolute "no". We still ordered it, as Rena said she would make pancake rolls with the accompanying cucumber, spring onion and plum sauce.
It wasn't the traditional Peking duck dish as the description had implied but the more commonly served 'aromatic' duck, but bearing no resemblance to their website's picture, which they have also been tweeting. Already shredded, and looking like a haystack, complete with a rosemary-sprig feather, it was left on the table in my absence. Lukewarm, every shred of flesh, as well as the skin, was dried up, and tasted like string. Leaving most of it, they offered a takeaway box. No, thanks.
Four bite-sized shui jiao dumplings (€12) were tasty, if expensive, at €3 a pop, sitting in a generic Sichuan chilli sauce – there was a lot of that.
Hard look
Mains included fillet of beef with black bean sauce at a whopping €42; scallops gung bao (€38); and Manor Farm corn fed chicken (€32). We ordered steamed whole black sole (€38), which was perfectly cooked and absolutely delicious. Again, however, the etiquette of fine-dining went out the door – we weren't asked if we'd like it taken off the bone – not even when I stood up at the big round table to perform the operation. But, it was our second sharing dish that really took the wind out of our sails when, at €32, just two panko-crumbed butterflied prawns, their heads standing beside them, were presented with ramekins of commercial tasting sauces – gloopy hot garlic, hot bean, and more Sichuan chilli sauce. We'd passed on rice, at a fiver extra.
The desserts (€9) were cardboard-like commercial tartlet bases from a major food services supplier, with soft fillings added at the last minute – caramel-almond, chocolate et al. A five-year-old could do better.
There's a lavish drinks list with cocktails (€13), wines (€6.30-€12), and Champagne (€20-€22), by the glass. So, with two glasses of wine – Montgilet rose D'Anjoy Valle du Loire (€10); Johann Brunner Reisling Halbtrocken (€9.50), and a Heineken0.0 (€5.50), our bill, with service, came to €153.95.
This place needs to take a long hard look at itself.
Old Post Office
7 Rockhill Road, Blackrock, Co. Dublin.
Tel: (01) 555-9991
oldpostofficeblackrock.ie
lucindaosullivan.com
First Published In The Sunday Independent