Our Latest Great Place To Eat - Plum Tree Bistro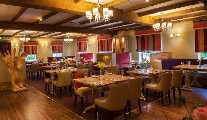 Tuesday 28 May 2019
The Plum Tree is warm and inviting, with classic touches like exposed brick walls and wooden overhead beams meeting bright, colourful furnishings; but do stop into the stylish Dolmen Bar for pre-dinner drink first. They have some great craft beers and cocktails, not to mention a gin menu with bottles from Carlow, England, Germany, Scotland and Spain.
Bagging a table in a comfy booth by the windows, we began to peruse the menus. They have a well-priced and well thought out set menu, but we stuck to the a la carte, which, on our visit, included starters like potted crab with lemongrass, coriander and creme fraiche and toasted sourdough; tiger prawns sautéed with ginger red chillies garlic butter and lemon sauce; as well as a Caesar salad available also as a main. Braised pork belly for me was perfectly crisped while still retaining a tender succulent bite, served with pressed apple jelly, glazed apple and some tasty crispy pork crackling. Rena went for a dish of breaded brie, deep-fried with a lovely golden crumb and served with homemade cranberry sauce and a side of rocket.
The mains had lots to choose from, and the dedicated carnivores amongst you will certainly be pleased. An organic 6oz Coolanowle Farm beef burger was topped with streaky bacon, Monterey Jack cheese and Ballymaloe relish and served in a toasted brioche bun with a side of home style chips; while their Plum Tree mixed grill had a chargrilled 4oz sirloin steak, Carlow lamb cutlet, Coolanowle organic pudding, artisan sausage, fried egg, grilled tomato, beer battered onion rings and chips. At the top of the meaty mountain was a grilled 8oz prime Hereford sirloin steak.