Restaurant Review - Volare by Ciamei Cafe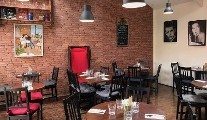 Wednesday 26 June 2019
"Necessity is the mother of invention", the old proverb certainly came into play in recent years. With rents at stratospheric heights, and the restaurant 'big boys' being the only people who could snap up prime city locations, it's meant that talented young chefs have really had to use their initiative to find off-beat spots, and attract the diners by their talents. It's a world-wide trend but from the diner's point of view it means we now have great restaurants in the suburbs, and areas in the city that are euphemistically more 'shabby chic' than 'location, location, location'. One single brave soul can bring others with him, and we're seeing vast improvements in many run-down areas. They become part of the local community, and that can only be good. Some are in derelict units, some are in containers. I've met many people in markets during the recession, who were initially feeling totally deflated, only to have their lives turned around when they found out that people loved their jams, pies, cakes or curries.
Market analysis
Blackrock Market has been running for many years but it's only relatively recently, with revitalised cafes and stalls, that food has become a big element here. The game was upped by Heron & Grey a couple of years ago, when they were awarded a Michelin Star. That partnership has now dissolved with Damien Grey remaining in situ, seriously upgrading the premises and opening Liath – one of the hottest dining venues in Dublin. Around the corner, Santosh and Millie Thomas had set up 3 Leaves, a tiny unit serving Indian food. They now cover three units, and you'll be lucky if you get a table.
I wandered down to the market recently and spotted Ciamei Cafe, set in a quirky cottage with potted plastic shrubs, and an outside area with tables and chairs. We could see a big woodfired pizza oven, and it came back to me that this is where Peter and Jumoke Hogan, of the super successful Fish Shop on Benburb Street, had started selling fish and chips.
The cat's meow
Pushing through the door we were in a buzzy busy Italian full of Blackrock's finest, clearly regulars, chomping through beautiful big thin-based pizzas. A friendly chap seated us at a table just under the counter, and it seemed like good luck as Charlie Kelly, the neighbourhood three-legged cat, came through the door and headed straight for me!
Ciamei opens seven days a week, serving dinner from Thursday to Saturday as Volare restaurant. Salads (€7.95-€9.95) included Italian stalwarts of Caprese; tuna; and bresaola & rocket. Starters (€9.95-€12.95) featured calamari with lemon and sea salt; and an antipasti of cheese, cured meats, bruschetta, mini Caprese, et al, which could be had in three sizes at €11.95/€19.95/€24.95.
Pasta masters
We started by sharing fritto misto (€12.95), excellent lightly battered squid rings and prawns with lemon. Some dozen and a half pizzas (€9.95-€12.95) had everything from 'spicy montagna' to 'goat & Parma' to 'Inferno' while 'Something Different' (€13.95-€16.95) offered 16-hour pork belly with crackling, or pan-fried seabass, both served with roast potatoes, carrots and asparagus.
We were in the mindset for pasta (€10.95/€12.95 – kids €6.95) or some other delicious carb-laden indulgence. Carbonara, Bolognese and Amatriciana were there as were ravioli and rigatoni in many guises. Gnocchi and carnaroli risotto also featured, and could be ordered as vegetarian, vegan, or with meat or fish.
On the board, there was a special of blue cheese and walnuts with a short pasta, but they were happy to make it with linguine for me (€12.95), and let me tell you, I still dream of it. Mary felt the same of her ricotta and spinach filled ravioli, topped in a tomato, fresh basil and garlic sauce with Parmesan (€12.95).
We finished as we began, sharing a slice of lovely almond tart (€4.95).
As for drinks, you could kick off with an Aperol Spritz and there was a choice of seven wines. So, with a bottle of delicious fresh and fruity Cortenuda Falanghina (€29.50), our bill with service came to €80.30.
Push the door and go in guys, Claudio Moscati's market cafe and restaurant is a delight.
Volare by Ciamei Cafe
Blackrock Market,
Blackrock, Co. Dublin.
Tel: (086) 897-8418
facebook.com
lucindaosullivan.com
First Published In The Sunday Independent