Restaurant Review - Aimsir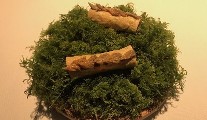 Wednesday 12 June 2019
With a bucket of cash, and the guidance of the late Miranda, Countess of Iveagh, with whom he had a long-standing affair, Ryanair founder Dr. Tony Ryan created a mini-Versailles at Lyons Demesne, Co. Kildare. In 2007, having completed the house, he set about making his own Petit Trianon in the former old mill village on the estate, setting up two restaurants with Richard Corrigan, and cottages providing guest accommodation. The attention to detail was incredible, but sadly, Tony Ryan died shortly after, and didn't get to really enjoy his creation. The restaurants changed, Clodagh McKenna had a cafe and cookery school for a while, but the place never quite had the same sparkle.
In 2016, The Village was bought by Barry O'Callaghan, owner of the Cliff hotels in Ardmore and Dublin, who has now put his mark on Lyons with Aimsir. The Head Chef is Cornwall-born Jordan Bailey, ex Maaemo, a 3-star Michelin restaurant in Oslo, and, at the front of house is his Danish wife Majken. Bailey has a strong cocktail of cosmopolitan people with him, including James Bevan, ex Head Chef at Vue de Monde in Melbourne; Australian Tim Davies, ex Noma in Copenhagen; and Cathryn Steunenberg as sommelier.
Putting on a show
Set in what was formerly the cookery school – a very attractive stone cut building, seating just 24 people – diners can observe what's going on in the glass-fronted cooking suite and on the stand-alone pass in front of the kitchen, where dishes are plated and finished. The seemingly seamless operation is like watching a theatrical performance of Marcel Marceau's mime artists, moving silently in sequence and harmony, tweezers in hand, each player intent on his own part, as Bailey conducts proceedings.
A tasting menu of 18 individual dishes (€105), starts with snacks, before moving on to savoury dishes from land and sea, finishing with the sweet section of desserts and petits fours – Bailey is clearly not after just one Star; after all, he's used to three. With months of prep behind them, each course is an Instagram gem – involving syrups, herbs, pickles, fruits, seaweeds – while the artisan Irish cutlery and tableware is worthy of a separate article.
Course by course
Roasted skins from a Ballymakenny violetta potato formed a 'cocktail sausage' filled with Boyne Valley Ban cheese, pickled Drummond House black garlic and scapes. This was followed by two divine little milk skin crisp rolls filled with golden chanterelles and hen of the woods, set on a mossy bed. A mini tartlet made from tripe was filled with Dexter beef, Lough Neagh eel and mustard, and was quickly followed by a clever layered mini-ribbon of kelp cooked in cold pressed blackcurrant juice, and topped with Bumblebee Farm lemon verbena. There were Flaggy Shore oysters in roasted koji butter with Highbank Orchard apple balsamic; raw clams with tart gooseberries; Ballymore organic heritage wheat soda bread with Crawfords micro-dairy butter; and Drummond House asparagus.
I loved the Dublin Bay skate wing with 'three cornered leek' and flowers, crown dill and chicken skin butter sauce, but was less keen on slivers of heather smoked mutton heart on a dulse cracker and pepper dillisk emulsion. A rectangle of Achill mountain mutton shoulder was maybe a tad heavy for this time of year, but, as a dish it was faultless.
The final countdown
The home stretch of this foodie marathon saw Young Buck blue cheese with tawny cider, followed by heavenly poached rhubarb in cherry wood syrup, pickled beach rose, coal burnt soft meringue and rhubarb root. Next came gorse flower ice-cream; a rich koji tart; Ballyhubbock raw sheep milk fudge; and, finally, sweet buns with young beech leaf.
A 'beverage' pairing was available at €85 and a non-alcoholic version at €40. I, however, was behind the wheel so stuck to uisce in Aimsir, while my friend had two glasses (€12 each) of a modest organic and biodynamic Italian Cosimo Maria Masini, Annick, Toscana Bianco, 2018, a Sauvignon Blanc/Vermentino blend, bringing our bill, with service, to €264.
As I said in my review of Liath in Blackrock, €105 is bargain basement for this experience. Get there fast, before they get the stars and the price trebles!
Aimsir,
Lyons Road, Celbridge, Co. Kildare.
Tel: (01) 630-3500
aimsir.ie
lucindaosullivan.com
First Published In The Sunday Independent