Restaurant Review - The Eddison @ The Dylan Hotel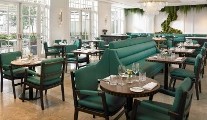 Wednesday 05 June 2019
Less is more they say, and that's certainly the case with one of the chicest dining rooms to open in Dubin for quite a long time.
When the 5-Star Dylan Boutique Hotel opened in D4's Eastmoreland Place, in the former Nurses Home of Baggot Street Hospital a dozen years ago, it's giant chairs and elaborate funky decor were quite the thing. It's had various updates since then but nothing quite so notable as their recent overhaul, adding 28 new bedrooms along with The Nurserie – a super covered-terrace area to the rear – within the past 18 months.
Crystals and rubies
Now, they've transformed the ground floor, with the piece de resistance being The Eddison restaurant, named for Miss Edith Eddison, Matron of the Royal City of Dublin Hospital, (Baggot Street Hospital), during the 1916 Rising. The crystal clear white room, which opens onto both the front and back terraces, has a mid-century Milan feel with green leather seating and a dramatic mossy green tree installation (to change seasonally) on the back wall.
"Have you seen The Ruby Room", asked our meeter greeter, leading us to what has to be the most gorgeous cocktail bar in town – exclusive to residents only. A chic 1930s Shanghai style hideaway, of rich colours; it's like being wrapped up away from the world in a Persian rug.
Moving back into the restaurant, we found Executive Chef Paul Quinn's food was every bit as on-trend, with cool contemporary plates delivering not just on sophisticated presentations but on terrific flavour and food pairings.
Quinn's tips
With Quinn's food, there were no lonely snails hiding under draped green leaves or scatterings of grain which have you wondering, in some places, whether a hen is going to come in from the yard and peck at your plate. 'To Begin' (€7-€16) featured cured monkfish paired with lavender, apple, radish, cucumber & apple consomme, while smoked Kilkenny rose veal tartare included foie gras, mandarin, cashew and oyster mushroom. Being asparagus season, I had the grilled spears (€12) with slivers of smoked duck topped with a crispy poached egg and a truffle mayo. The pearl white and green spears were perfectly cooked, with a little bite. The tender tips can, and often are, a mush if given a second or two too long. Ravioli of chicken (€12) for Mary, with hen of the wood and spring onion, finished with chicken broth and pumpkin oil, was a generous bowl, bursting with flavour.
There was also a really good salad garden selection (€12) with three combos involving water melon, pomegranate, feta and lambs leaf, Dijon dressing; grilled courgettes and broad beans with ricotta and Burren white balsamic; or roast potato with radish, baby kale, avocado, and a sheeps' yoghurt dressing.
Consummate consomme
Mains (€25-€32) included a double-baked goats cheese souffle with hispi cabbage and caramelised orange; while hake was with crisp oyster, sheep's yoghurt, salsify, hazelnut and nettle pesto. A pork plate of belly, fillet and shoulder cannelloni had morels and olive puree; while spring lamb came with a wild garlic emulsion.
Mary had a second starter of perfect pink and silky roast quail (€14) with broad beans, wild garlic and truffle, which would knock the socks off any game gourmet. A quartet of roast scallops (€29) for me came with my all-time favourite – capers and raisins – the sweet sour combination elevates scallops or any white fish. The molluscs, set in a circle with cauliflower florets, included a pour-over shellfish consomme in a separate little jug. Sides were €5, and sounded interesting, but we didn't feel we needed them.
We resisted an Espresso Martini or Brandy Alexander (haven't seen that in a while), sharing instead the most divine blood orange cheesecake mousse (€8) with toffee crumb, balsamic & blood orange jelly, and blood orange meringue.
Wine wise, there's something for all pockets. We had a lovely South Australian, Angove Butterfly Ridge 2016 (€32), a Riesling & Gewurztraminer blend which, with light fruity flavours, had undertones of the more powerful Gewurzttraminer without taking over. With two espressos (€8) and service, our bill came to €126.50.
I'll be back for the goats' cheese souffle, and the cocktails...and…
The Eddison
Dylan Hotel, Eastmoreland Place, D4.
Tel: (01) 660-3000
dylan.ie
lucindaosullivan.com
First Published In The Sunday Independent