Restaurant Review - 30 Church Street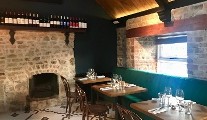 Wednesday 22 May 2019
The pretty fishing village of Howth, Co. Dublin, has many long-standing restaurants to cater for its affluent residents and many day-tripping tourists. But, despite new places popping up all over Dublin on a weekly basis, nothing has been added to the pot here for quite a while. It's never good to have a stagnant restaurant scene. Owners become complacent, self-satisfied, and lose touch with the trends.
Well, now Howth has a new restaurant, which might rattle a few cages in the industry, as it's likely to prove popular with local yachtties and golfers.
The long and winding road
Most of Howth's restaurants are on the waterfront, but the eponymous new 30 Church Street is up amid the winding streets of the village in a very old building, which, back in the day, was a tavern.
Though it overlooks a cemetery, beside St Mary's Abbey, it has the most stunning cinematic views out over the harbour to Lambay Island. At one stage, it was The Big Blue, and for a short period Boqueria, before being taken under the wing of Laura Peat and business partner Pol O'hEannraich. Between them, have Mulberry Garden in Donnybrook, and Bloom and Brookwood on Upper and Lower Baggot Streets respectively.
The ground floor is a spacious beautifully tiled bar area, where they'll be serving food, but the main restaurant is upstairs with a high-pitched beamed ceiling, comfortable leather banquettes, and an open kitchen, behind which, chefs Istvan Zadravecz and Derek Brown were hard at work.
Starters included tomato and basil bruschetta at €7.95; goats cheese salad at €9.95; or 3 oysters for €7.50, moving up to 6/9 at €15/€28, but, from there, things got a little pricey. Working upwards, from €10.95-€16, there was seafood chowder with Guinness bread; smoked trout pate; chicken liver & foie gras parfait with plum compote and toast; and, top of the heap, crab claws in garlic butter.
Being economical, Mary and I ordered the parfait (€12.95) to share. It was a good-sized tranche of pate but it was somewhat dry and unspreadable, not helped, either, by the accompaniments. The 'toast' consisted of crispy cold pieces of pitta bread, and the 'plum compote' tasted chutney-like, lacking the sweetness needed with 'foie gras'. We called the waiter, who brought us the Guinness bread that had been billed with the chowder instead, but it still wasn't really suitable. It was later taken off the bill. As I remarked to the chap in charge, there's a reason classic accompaniments such as apple with pork, mint with lamb etc work, to which he replied, "we're working on a brioche".
An applause for the claws
The pizza craze rolls on, and, following the Press Up Group's example of a money-spinning pizza oven in virtually all of their restaurants, they've installed a wood-fired oven in 30 Church Street – knocking out seven varieties, from €11.95-€15.95, including The Anchovy, The 'Nduja, The Vegan, and so on.
After that, it was onwards and upwards. Ten mains, priced from €19-€34.95, kicked off at the lower end with mussels, chorizo cream and hand-cut fries (€19); fettuccine Alfredo (€19); moving on up through Irish corn fed chicken (€22.95); braised pork cheek (€23.95); whole roast seabass (€26.95); Howth Harbour seafood stew with rouille (€27.95); 28-day aged rib-eye (€29.95), and, at the tippy-top, a fillet of beef with truffled potatoes (€34.95) – with no weights given for the steaks.
Mary followed up with a starter portion of crab claws in garlic butter (€16) with truffle Parmesan fries (€4.50), while I had caramelised king scallops (€33.95). The crab claws were juicy, fresh and delicious, and came with finger-licking garlic butter, while the luscious Parmesan fries were the perfect by-the-sea carb indulgence. The scallops were beautifully seared and artfully 'scattered' around the plate in the current style. Light and fresh, their delicate flavour sang out from the interspersed blobs of cauliflower puree, fine long-stem broccoli, all of which was drizzled with a toasted pine nut and marinated raisin jus.
Passing on puds – which were of the ubiquitous chocolate brownie; Eton mess; and creme brulee variety – our bill, with a bottle of Chapoutier 'Marius' Vermentino 2017 (€27) and service, came to €89.95.
Yes, I can see them rolling down here from Howth Head for supper.
30 Church Street,
Howth, Co. Dublin.
Tel: (01) 806-3453
30churchstreethowth.com
lucindaosullivan.com
First Published In The Sunday Independent