Restaurant Review - Circa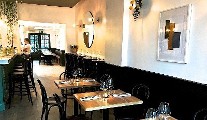 Wednesday 08 May 2019
There's an element of the muesli millennial generation behind the stove in hipster restaurants, and they have a penchant for delivering to their customers what I would term basically toddler food. After so many dishes of 'worthy' grains, nuts and greens scattered across plates with specks of croutons, cheese, fish or meats, I'm beginning to wonder if these guys can't hold a knife and fork properly – or maybe they're just so engrossed in their iPhones that it's easier to shovel it in without being distracted from Twitter. I was mulling on this recently, in a restaurant with a Michelin-starred chef on board, having been served a pasta dish where miniscule blobs of overcooked monkfish looked like a scattering of feta on the plate. It left me longing for good classic dishes – which I know the aforementioned chef can deliver – rather than what looked like kitty-litter on a plate.
So, when I saw that four young guys were behind the new Circa restaurant in Terenure, I was hoping that it wouldn't be more muesli dinners. However, it was anything but. It was sublime food, at great prices.
Circa of friends
At the stove is Gareth Naughton, ex Drury Buildings, Suesey Street and L'Ecrivain, all bastions of good food. Also involved, are Ross Duffy, Robin Murphy and Emmet Murphy, all of whom have worked in various trendy restaurants. It's a lovely space – cool, with a white and forest-green tiled colour-scheme and long bar, it has an indoors-outdoors feel enhanced by a small sun-trap yard out back. And, with no money-men behind them, they've done all the hard labour to get the place ship shape themselves.
We were there on it's first Saturday night, and locals were beginning to wander in to suss it out, including an elderly lady with a backpack who wanted a scone and a coffee. Maybe not what, they'd expect during dinner service, but, treating her like a queen, they popped her up at the bar with coffee and delicious breads. In the meantime, we were brought crispy baguette slices with a quenelle of savoury butter, blended with Ard Mhacha shitake mushrooms from Armagh.
A la Francais
You can either nip in and have a plate and a glass of wine; or create your own tasting menu with a few small plates (€10-€14) or large ones (€20-€28). Small plates included Ardsallagh goats' cheese paired with Mooncoin beetroot, hibiscus and bresaola, while buttermilk fried rabbit was served classically French-style with a pea, bacon and lettuce fricassee with tarragon mayo.
I kicked off with a sublime Japanese-influenced tuna tartare (€14), which had perfectly-diced tuna in a light seaweed vinegar, with yuzu, cucumber and smoked avocado, topped with purple daikon wafers. My friend chose organic chicken and foie gras terrine (€12), which came with braised lettuce and celeriac remoulade, again showed the high-end classical French influences in Naughton's cooking.
Mains had Wicklow lamb with potato mousseline, asparagus and salsa; while brill came with a smoked clam veloute, dill and seaweed butter, and cod, interestingly, was served with smoked aubergine. For my carnivorous friend, pressed pig belly (€25), draped with wild garlic, was melt in the mouth soft and silky in texture, with a crisp crackling that just had to be picked up and crunched, while celeriac puree, burnt apple jus, and a scrumptious Ballymakenny potato cooked hasselback-style, beautifully enhanced the dish. Sticking with small plates, I followed up with Toonsbridge buffalo mozzarella (€10) which was accompanied by a feather of pumpkin seed praline, and prunes marinated in Pedro Ximenez sherry, highlighted with vibrant orange circles of butternut squash. Another lovely combo.
Cutting the cheese
Puds (€7.50) included rhubarb and Angostura, with sweet cultured cream and meringue; and a cheese plate – I do like to see a cheese offering at that price. We shared a stunningly flavoured kaffir lime parfait with caramelised white chocolate, passionfruit and coconut snow.
There's a great range of wine and Aperol cocktails, but I was driving, so, it was water for me, while my friend had a glass of Verdejo (€6.50). With service, our bill came to €82.50.
High-end food at low-end prices, in a casual setting, what more could you want?
Circa
90 Terenure Road North, Dublin 6W
Tel: (01) 534-2644
restaurantcirca.com
lucindaosullivan.com
First Published In The Sunday Independent