Restaurant Review - Liath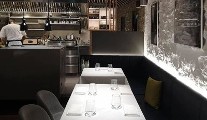 Wednesday 17 April 2019
Damien Grey is a stunningly talented Australian-born chef with an impeccable pedigree in high-end restaurants. He set up Heron & Grey with business partner Andrew Heron, which I raved about in February 2016, but everyone was stunned when, later that year, H&G, a tiny 22-seater restaurant in a market, with an outside loo, was awarded a Michelin star. Late last year, the duo shook the foodie world again, announcing that they were closing H&G and going their own ways.
Taking centre stage
Needless to say the gossiping gourmets have been bursting to see what Grey, who stayed in situ, would do next. As H&G, they'd taken the premises out of its greasy market caff days of yore, but it still had limitations with a tiny basic kitchen restricting Grey's culinary ambitions — though not his achievements.
Now, every inch of this little space has been honed to sleek sophistication, like a secret sanctuary in which you are enveloped as you enter its discreet black double doors, with superstar Grey controlling operations from the illuminated stage-like kitchen, at the head of the room.
The kitchen team is the same, with the superb sous and pastry chefs, Jozef Radakovsky and Roisin Gillen gliding silently in the background. Restaurant manager Ailish O'Neill and sommelier Niall O'Connor were on the floor, along with Ed Joliffe, who was also popping the corks on the first night. The whole effect is streamlined, with white napery now added – which may seem like a formal step but the confidence of success has added a more relaxed, fun atmosphere.

It's an 8-10-course no-choice tasting menu (€78). I'm not a fan of Tasting Menus per se, as many are ill thought out and heavy. At Liath, it was an exquisite experience; a subtle sophisticated journey through complex tastes and textures of land, sea, rivers and forests, with ethereal elements and gossamer-thin finishing touches.
Our opener was brown chicken broth with vetch (wild pea leaves), and leek ash, before a delicately delicious presentation of celeriac, frisee, and rosemary, its bitter burnt flavours softened by a silky sheep's yoghurt mousse. The stronger gamey flavours of pigeon ensued, brilliantly paired with fermented beetroot puree, caramel jelly, and shitake mushroom. And so, it was palate cleansing time, but not just a sorbet – we've become blase, haven't we? A Japanese spoon held 'one shot' of lemon jelly, ice and espuma, so tart and true to its purpose, that even sucking on a wince-inducing lemon segment couldn't have outdone it.
With our taste buds refreshed, we were ready for the oily fish that was to come. A sublime precision-cut tranch of perfectly-seared mackerel, with a nod to Korea by way of a pungent kimchi base, was tempered by lardo, long stem broccoli and gentle avocado. Next up was a humdinger of a mini-cone filled with pureed smoked eel at the top, working down to the kick of pureed anchovies, with aged Parmesan and fennel pollen somewhere in the mix.
It was a disarming tester, a mouthful of fun, that said "you thought you didn't like anchovies or eel, but you won't forget me in a hurry." Divine. Allium, pennywort and pineapple, was much more than just that with perfectly moist rondelles of terriyaki pork with sesame.
We finished with four sublime puds. A mini hedgehog-looking baked Alaska; the freshness of a mango; a rhubarb, lime and rose confection; and culminating with three elements of dark chocolate.
A right pair
A wine pairing at €44 per person was available, but we ordered a bottle of Bierzo Mengoba Godello Viejo 2016 (€50), which took us through many courses, switching, with the pigeon, to a glass of Suertes del Marques Trenzada 2016 Valle de la Orotava DOC (€13 each) from Tenerife, which bore the slatey volcanic flavours of Mount Tiede, and, with desserts, we had a plummy glass of Moravian Cuvee Bernety (€11.50 each) from the Czech Republic.

Liath is a complete culinary experience in which you immerse yourself for over 3 hours. Our bill, with water (€4) and superb service, came to €289. I actually think the Tasting Menu is too cheap, not something you'll hear me saying very often!
Liath
Blackrock Market, Co Dublin.
Tel: (01) 212-3676
liathrestaurant.com
lucindaosullivan.com
First Published In The Sunday Independent