Restaurant Review - Mapas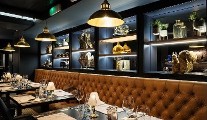 Wednesday 10 April 2019
With tourism figures up, and a bumper season anticipated this year, hotels are being built and re-developed left, right and centre. Many are part of international groups, including those who snapped up hotels at knock down prices throughout the crash. But, it's important to remember that Ireland has a great wealth of family owned hotels, each with their own distinct personalities, offering unique experiences that uniform chain hotels simply can't replicate. One such family-owned operation, in my neck of the woods, is the superb Fitzpatrick Castle Hotel in Killiney.
Owned by Eithne Fitzpatrick Scott-Lennon (who's brother John has the well-known Fitzpatrick's Hotel in Manhattan) and her family, the Castle, originally called Mount Mapas, was built in 1740 on a height overlooking Dublin Bay. In the 20th Century, as Killiney Castle, it was used by the Black & Tans, the IRA, and by the Republicans in the civil war, before being burnt by Free State troops. Bought in the 70s by the dynamo that was the late Paddy Fitzpatrick, he transformed it into a first class destination hotel and created a dynasty of hoteliers. Keeping it in the family, Eithne's son, and Paddy's grandson, Mark Scott-Lennon is now the General Manager, while the Executive Chef, Sean Dempsey, has quite remarkably been at the helm for the best part of 50 years.
Their latest addition is a lovely new bar, The Library, in the main reception area, which does great cocktails; while they have also revamped their casual lower level restaurant, renaming it Mapas. Beside their Dungeon bar, where you can linger before or afterwards, Mapas is set in an intimate and buzzy space with lots of comfortable banquette seating. I fancied quite a number of the starters (€6.90-€12.50), with roasted-beef brisket being paired with mango, roasted pine nuts & coriander salsa, while shallow fried Wicklow Brie was served with apple coulis. Fishy plates included a smoked Irish salmon salad, note the difference, "smoked Irish salmon" as opposed to "Irish smoked salmon", which is passed off everywhere, and only means that the salmon, from God-knows-where, was smoked in Ireland. They do great seafood chowder with Guinness bread, while steamed black mussels are in a creamy garlic and parsley white wine broth with sourdough. Rena kicked off with fabulous juicy pan-fried lime and chilli crab claws (€10) served on homemade Irish spelt bread. Meanwhile, I loved my Dublin Bay Prawn Provencale (€12.50) with sourdough. No other prawn in the world can compare flavour and texture wise with our Dublin Bay prawns.
Mains (€18-€30.50) included chargrilled steaks – 8oz fillet, 10oz centre cut and a 16oz T-bone – add Dublin Bay prawns for a €7.50 supplement, while pan-fried hake or seared tuna steak were the fish options. Three veggie dishes included a vegetable nut roast; a butternut, Emmental and quinoa roulade with a Mediterranean vegetable stew; and, thirdly, Rena's choice of black bean rissole (€18), a new one on me, which was delicious, moist and substantial, served with avocado, mint yoghurt and mixed leaves. Dithering between roast rack of Wicklow lamb and a half roast crispy duck (€24), I went with the latter, which, served with apple and grape potato stuffing, and French orange sauce, was excellent. With these, we shared a portion of rosemary and sea-salted chunky chips (€3.50).
Passing on puds (€6-€8) – chocolate fudge cake; lemon meringue pie, and rhubarb and blackberry crumble, we shared a selection of Irish cheeses (€11) – Cashel Blue, Wicklow Brie and Knockanore oak-smoked cheddar – nicely presented with grapes, water biscuits, celery sticks and chutney. We also resisted the tantalising Dessert Cocktails (€6.50-€9.50), featuring an Espresso Old Fashioned with Bulleit Bourbon and orange bitters, along with Limoncello Martinis.
With a bottle of Spanish Bodegas Montebuena 100% Tempranillo, Rioja Crianza 2014 (€35), having delicious aromas of wild berries and a slight nutty edge, and service, our bill came to €126.
Mapas Restaurant
Fitzpatrick Castle Hotel
Killiney, Co. Dublin.
Tel: (01) 230-5400
lucindaosullivan.com
First Published In The Sunday Independent