Our Latest Great Place To Eat - The Old Spot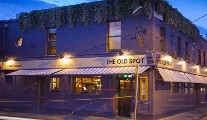 Thursday 04 April 2019
Bursting with atmosphere, The Old Spot offers a perfect casual gastro experience. Warm and welcoming with 'distressed' wooden furniture and floors, plus lots of interesting antique bric-a-brac about the place, there's a really classic warm pub feeling.
We rolled in one evening and we definitely weren't disappointed. The place was packed on our arrival, but we'd timed it just right, as a table at the corner of the banquette had just been vacated. Comfortably ensconced, with menus in-hand, Brendan ordered a pint, whilst I enjoyed a tasty rhubarb Sidecar cocktail of cognac, Cointreau, rhubarb liqueur and bitters, from their extensive selection of Old Spot cocktails. I wanted to try them all but himself said "hold on now".
Starters included a whipped Crozier blue cheese, pear, walnut and chicory salad; citrus-cured salmon with buttermilk, beets, horseradish and Goatsbridge caviar; along with a potato, mussel and chorizo veloute, served with homemade brown bread. Their Old Spot sausage roll went down a treat for Brendan, with its violet mustard and celeriac slaw, while tiger prawn pil pil, with chilli, garlic, rocket and a side of sourdough, had me off to a great start.
For the mains, roast Feighcullen duck breast with parsnip, rainbow chard, pear and duck rosti sounded divine; as did hand-rolled gnocchi with roast beetroot, butternut squash and crispy kale. A roast Atlantic cod with artichoke, chestnuts, bacon and cavalo nero was winking at me, but, I just couldn't say no to a delicious Gloucester pork belly, with mash potato, winter cabbage, zingy apple mustard and cider jus. Sweet and succulent to the last bite, it was ace – as was a side of crispy onion shoe strings. Across the table a perfectly charred McLoughlin's dry-aged rib-eye with bone marrow crumb, pepper sauce and hand cut chips was being eagerly devoured.
Puds at the Old Spot, which also offer recommended dessert wine pairings, had a pear and almond tart with vanilla ice-cream; chocolate pistachio ganache with praline, pistachio ice-cream and berry coulis; as well as an Irish artisanal cheese selection. For me, a mascarpone mousse with caramel jelly and hazelnut biscotti was just the thing.