Restaurant Review - Crudo at Dunne & Crescenzi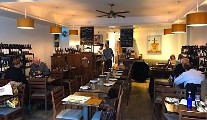 Wednesday 03 April 2019
Dunne & Crescenzi has been delighting Dubliners for over twenty years. It was Eileen Dunne and her husband, Stefano Crescenzi, who woke us up all those years ago to the delights of casual Italian food, as opposed to the buckets of sloshy tomato sauce we were familiar with. Of course, when a good idea comes along, we're not slow off the mark, and we took to the Dunne & Crescenzi restaurants – of which there are three city branches plus one in the Kildare Village Outlet – like ducks to water.
The next generation of Dunne & Crescenzi, brothers Ghinlon Wang and Sean Crescenzi, have come on board, and, of course, brought new ideas with them. They've just launched Crudo (which means raw in Italian) at Dunne & Crescenzi, a twist to the repertoire of their very popular restaurant in Sandymount, with Brendan Ward ex Head Chef of the Unicorn on board. The idea is to develop authentic Italian dishes rooted in the local landscape, and present them in a contemporary style. But, it's all about casual dining with small and sharing plates in a mix and match style. They've also started to make their own cured meats, with a fermentation kitchen on the way. However, regulars need not fear as many of their favourite dishes are still there.
I dropped in with my friend Mary for dinner and we loved what we saw on the new menu, kicking off by sharing suppli (€6) as we absorbed all we were reading. A popular street food snack in Italy, suppli are rice balls filled with silky mozzarella cheese, Gorgonzola, chicken liver, pork and so on, depending on where you are, the crispy texture of the rice contrasting with a soft oozing centre. Crudo's version were two superb golf-ball-sized specimens made with confit duck, contrasted by zingy apple and hazelnut.
Down the rabbit hole
Starters (€6.50-€16) featured the ever-popular antipasto misto of charcuterie, cheese, grilled vegetables and olives; as well as a tomato bruschetta. The new twists included charred Castelfranco radicchio with a Gorgonzola dressing, raisins and aged ricotta; while hot smoked trout came with marinated ricotta, fresh apple, and trout roe. We shared the most divine big creamy puffball of buffalo burrata (€13) with toasted sourdough, enlivened with a tart rhubarb mustard, and pistachio dukkah; as well as polpette (€12), which was a trio of very elegant chicken and truffle meatballs, grouped together, with wild mushrooms and broadbeans adding a fresh texture.
A half dozen really interesting pasta, gnocchi and risotto dishes (€15-€18) included chitarra (a square edged spaghetti) with fresh Irish prawns, 'nduja and garlic butter; while carnaroli risotto featured squid ink, baby squid, vermouth, mascarpone and romesco. Purple broccoli was paired with orecchiette pasta, chilli, green olives, and vegan cashew ricotta; while a braised beef ragu was served with gnocchi and Parmesan. The carnivore is catered for with a 10oz Delmonico rib-eye, served with pickled walnut salsa and truffled potato puree. For the pescatarian, there is swordfish steak pizzaiola topped with tomato, black olive, capers and burrata (€23) – along with daily specials.
My Italophile friend loves rabbit, so, white rabbit ragu (€17.50) was right up her alley, but, before all the new found vociferous vegans start firing darts from their fake Twitter handles, it's not your fluffy white pet bunny, or anything to do with Alice in Wonderland. It is rabbit, which is on many menus, in an Italian ragu bianco, a white sauce, with pancetta, peas, sage and lemon pangrattato (breadcrumbs), tossed in delicious tagliatelle. I had spaghetti Amatriciana (€15.50) with pancetta, tomato, chilli, red wine vinegar and pecorino.
To finish, we shared a panna cotta (€8), which again had a very different fresh sharp edge added by blood orange sections and juice, and sprinkled with crushed hazelnuts and basil oil. Delicious.
There's something very comforting about being surrounded by shelves and shelves of wine, and, with a bottle of Sardinian Canayli Vermentino di Gallura Superiore Doc 2016 (€33), and a coffee (€2.50), our bill with service came to €117.50.
Crudo at Dunne & Crescenzi opens from breakfast through lunch/weekend brunch and dinner.
Crudo at Dunne & Crescenzi,
11 Seaford Ave,
Sandymount,
Dublin 4.
Tel: (01) 667-3252
dunneandcrescenzi.com
lucindaosullivan.com
First Published In The Sunday Independent