Our Latest Great Place To Eat - Pizza Yard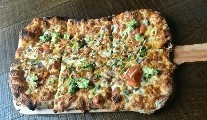 Friday 29 March 2019
We were seated at a great window table by he who was in charge, saying "two ladies, I have a nice table for you" – keeping us well away from families with small children at the other end. Full marks to him – a true pro.
The deal with the pizzas is that they range from one foot up to two yards (six feet), one foot being an 'individual' serving, one yard (three feet) serves 3/4 people, while two yards (six feet) serves 6/8 people. If you're into the massive ones, you can choose a different pizza variety per foot, the charge calculated per foot of each variety chosen. On top of that, there are 15 varieties, which read like the league of nations – Australiana – butternut squash sauce, mozzarella, red & yellow peppers, sweet red onion; Thai – chicken, peanut sauce; Mississippi – pulled pork, apricots and peppers. Japan featured with tuna sashimi.
Despite the moniker, its not just all about pizza and we wanted to try other dishes. So, we kicked off by sharing a one-foot pizza as a starter, sticking with Ireland, by way of their Wild Atlantic number. Baked with lobster sauce and mozzarella, topped with smoked salmon, avocado, sweet red onion, chives, capers, toasted sesame and honey mustard sauce, the base was Roman style crispy and light; it was definitely a winner.
Starters and pasta dishes included the ubiquitous calamari; pappardelle with poached pear and Gorgonzola; spinach and ricotta ravioli, gnocchi with goats' cheese. A tuna tartare, more Japanese than Italian, with ginger and avocado in soy sauce dressing, on the starter section, had proved so popular that it was now available as a main also.
Mains included risotto – prawn or Italian sausage – while the fish of the day was salmon. Lamb and mango skewers were gone, but pan-fried rose veal with prosciutto, sage and garlic, was delicious – two tranches, medium-rare, tender as butter, topped with a slice each of prosciutto and served with rosemary and garlic potatoes mixed with chargrilled courgette, broccoli and tomato.