Restaurant Review - Belli dentro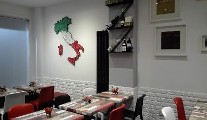 Wednesday 27 March 2019
It's safe to say that there's been an explosion of fab new cafes in Dublin and its burbs. What's not safe to say is whether they'll all be there in a couple of year's time. Some are large, some are small, and all are started with burning enthusiasm. However, the road to success can be a lot rougher than some of the hopefuls think. The hospitality industry is very hard work – long hours, a lot of slog, paperwork and dealing both with staff and the general public.
A cute new little white fronted Italian caffe in my neck of woods is the delightful Belli dentro in Dun Laoghaire, facing the old library on Lower Georges Street, close to St. Michael's Hospital. The name, which means 'beautiful inside' is perfect for this dinky convivial space, which seats around twenty people. Set up by husband and wife team, chef Max D'Allesandro and, the charming front of house, Valentina Simeoni, they serve well-priced breakfast, coffee, pastries and cakes, plus pasta and paninis at lunchtime.
However, it's all change on Friday and Saturday nights when Belli dentro becomes a buzzing little neighbourhood restaurant serving dinner, and it already seems to have a regular clientele.
I rolled up with my friend Rena, and soon we were ensconced in a window seat. A large screen was providing retro music videos, with all the divas from Barbara Streisand to Annie Lennox to Whitney, plus a couple of Italian ladies in the same vein, belting it out.
From a selection of three whites and three red wines on the blackboard, we ordered a couple of glasses of an Italian Sauvignon Blanc while we took in the menu. A selection of starters were all at €12, including carpaccio di bresaola; Caprese salad; Parma ham and buffalo mozzarella; tortino di potato and a truffle burrito with songino (lamb's lettuce) salad – which wasn't available that evening.
We thought it might be a good idea for them to add a couple of cheaper starters, say from €8, and perhaps we weren't alone in thinking this, because we noticed at tables around us that people either passed on starters or shared one – as indeed, we did. And so, a delicious bowl of hot bubbling aubergine Parmigiana (€12) arrived and was rapidly devoured.
Crazy Water
A trio of pastas (€15-€19) included garganelli, a tubular pasta, with radicchio, speck and small sweet plum shaped datterini tomatoes; while tonarrelli – a tad like spaghetti with squared corners –with swordfish was served fried aubergine and fresh tomatoes.
Mains (€24) included the ever-popular meat, tagliata di manzo – sliced rib-eye with rocket, cherry tomatoes, Parmesan and balsamic cream; while the fishy offering was swordfish in lemon butter and fresh parsley. But, that's not all, as you have to listen very carefully to Valentina explaining the specials of the day, which were, on our visit, fillet of beef Wellington; brill in 'crazy water' – a popular Italian broth – with boiled potatoes; another pasta number; and monkfish.
Rena went with a pasta dish, which was a real winner. Served in what we would call a white oval oven dish, panzerotti (€15), was a fine fold-over of pasta, stuffed with porcini mushrooms in fresh cream, topped with Parmesan and Scamorza, a smooth, meltingly 'stretchy' cheese, which is great in hot dishes. The flavours alone would definitely have us both going back for more.
I had the monkfish special (€24) – which consisted of generous chunks of the meaty pesce, which was once the fish of paupers, but is now the fish of princes, in a light tomato sauce, scattered with black olives and great big fruity capers.
'Baked potatoes' (€5) were not baked potatoes as we understand them, baked whole in their skin, but chopped and roasted with garlic, a bit like the popular Parmentier potato dishes that are now widely available.
Puddings, again, were 'called out' by Valentina. There was a chocolate fondant (which takes 15 minutes); chocolate mousse; and our choices of a mini tiramisu, and 'cake' involving chocolate and Nutella (both €3).
All in all, it's a delightful spot. With three glasses of wine, and service, our bill came to €90. We went out into the night as Freddy Mercury was belting out Bohemian Rhapsody – but we'll be back.
Belli dentro Caffe
115 Lower George's St, Dun Laoghaire, Co. Dublin.
Tel: (083) 866-3784
belli-dentro-caffe.business.site
lucindaosullivan.com
First Published In The Sunday Independent