Our Latest Great Place To Eat - Black Cat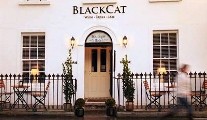 Friday 22 March 2019
Hugely popular with the locals and tourists, the vibe here is warm and inviting, with a clean cut simple décor and lots of jazzy tunes playing in the background. They also do live jazz nights at Black Cat, so if you fancy yourself a cool cat with your paw on the pulse, then this is just the place for you.
The focus here is all about making you feel comfortable. There's no pretention or airs, just good food. Along with their tapas menu, which is expansive, they offer a fab assortment of afternoon specials until 6pm daily. Think crispy tempura fish & chips with mushy peas; cherry tomato bruschettas; a chickpea stew; or a homemade seafood chowder with brown bread. Their Black Cat Pot of prawns, chorizo, baby potatoes, chickpeas and veg in a tomato sauce is a popular choice, I'm told. They also do gourmet sandwiches during the day, with the likes of a roast beetroot and goats cheese on ciabatta; an open crab sambo with spring onion and mixed greens on homemade brown bread; as well as a ciabatta filled with crisy calamari rings, garlic butter, harissa and organic leaves.
We, however, were on the hunt for a more substantial feed having spent the day out and about in the city of tribes. The problem, of course, with tapas menus is that you want everything and it's so easy for your eyes to get bigger than your belly, especially when the menu is filled with so many tasty sounding dishes. There was beef & pork meatballs with Parmesan cheese and garlic crostini; seared scallops with black pudding, a smoked bacon, pea and sage butter and squash puree; along with chicken livers with smoked pancetta and wholegrain mustard. Grilled halloumi was there with courgette, red pepper, toasted pine nuts and salsa verde; not to mention an Aran Island goat cheese with toasted almonds, beetroot puree, basil and garlic oil. They also had a variety of salads, like a chilli beef salad; an in-house smoked chicken salad; as well as a veggie friendly raw energy salad.
After 6pm, they also have a menu of, more substantial, evening specials, which on our visit included venison loin with parsnip puree, beetroot, walnut and a chocolate jus; a Mediterranean fisherman stew; along with a Colleran's chargrilled Angus sirloin steak served with celeriac & smoked Knockanore gratin, flat cup mushroom, a Micil Poitín & pepper sauce and a side of homemade chips.