Our Latest Great Place To Eat - Henry's Bistro & Winebar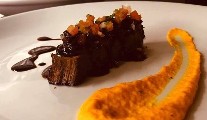 Tuesday 19 March 2019
Dermot and Noreen Fetton are two of the most experienced people operating within the hospitality business in Ireland today. Both spent many years working in 5 Star establishments; the legendary Dromoland Castle and the Castlemartyr Resort in East Cork, before deciding to take on the role of solo-restaurateurs, and believe me, these are people who know about food and how to provide the very best for their clientele.
Consequently, their Henry's Bistro & Winebar on Market Street in Ennis, Co. Clare, was quickly proving a popular draw with local and tourists alike. So, with more than one little bird singing its praises, I loaded himself into the car and headed west.
Following the cross-country journey, we were hungry and little bit tired, but we soon perked up amid the bright and buzzy atmosphere we found at Henry's. The restaurant itself is bedecked with polished wood floors and furniture, and stylish wall panelling adding contemporary character to the room. We happily ensconced ourselves in a corner and began eagerly assessing the menus.
On our visit, starters had smoked salmon with creamed cheese and olive croquette; a poached pear and blue cheese salad; as well as sautéed mushrooms and spinach with brioche and a Parmesan sauce. Brendan quite fancied their goats cheese and carmelised onion tart, which which was absolutely delicious and which he happily demolished, whilst I went for a hearty bowl of Henry's cracking seafood chowder served with some tasty traditional brown bread. Warm and comforting, with great depth of flavour, it was the perfect start for me.
For the mains, there was lots on offer, with a braised daube of beef in a red wine sauce; lamb shank with mash, green beans and a rosemary jus; plus an Irish Dexter burger lavished with bacon and cheese and served with French fries. The fish fanatics will be pleased with pan-seared halibut and a celeriac and lentil jus; along with a roasted salmon fillet being served with ratatouille.