Our Latest Great Place To Stay & Eat - The Foyle Hotel By Chef Brian McDermott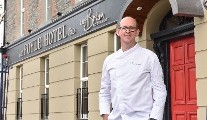 Thursday 14 March 2019
Set against a fantastic scenic backdrop on the Inishowen Peninsula, it really is a perfect spot to stay if you are on an adventure along the Wild Atlantic Way. There's just so much to see in this part of the world, including Glenveagh National Park in one direction, and over Lough Foyle, the Giant's Causewy is just an hour away.
It's a labour of love for Brian and Brenda, and, with daughters Niamh and Aoife also in the mix, it's certainly a family affair at The Foyle. The Hotel itself is situated within a 200-year-old building on Moville's Main Street, perfect for Wild Atlantic wanderers looking to add some authenticity to their adventures. It's been completely refurbished in recent years, transforming it into a fab boutique hotel complete with winebar and eatery. So, whether you're after lodgings steeped in history or a comfortable modern escape, you have the best of both worlds at the Foyle.
Featuring 16 stylish contemporary bedrooms, many with views out over Lough Foyle, complete with high quality linens, flat screen TVs, stylish en-suites, complimentary toiletries, hair dryers, and tea/coffee facilities. The rooms also feature the hotel's own brand of ground coffee along with crockery designed by the nearby Moville Pottery. Adding some local colour to the lodgings, framed photographs of local landmarks, taken by Brenda's sister Lynda, hang in all of the bedrooms at The Foyle.
With Brian's passion for great food, showcasing the very best of Donegal's local and fresh produce, guests at The Foyle really are in for a culinary treat. The eatery is open throughout the day from breakfast to lunch, tea, and dinner, with Brian's carefully selected menus being inspired by the tastes and traditions of Donegal with a big focus on seasonal ingredients, and the food complimented by a selection of signature drinks. With Greencastle Harbour being nearby, fresh seafood is often a prominent feature of their menus, and all suppliers from farmers to fisherman are credited for their contributions to the menu at The Foyle.
If you happen to be an aspiring chef, Brian also operates a cookery school here, with a variety of classes taking place throughout the year, with themes like 'Romance in the Kitchen', 'Men's Steak & Beer Nights' or 'New Year – New You'.