Restaurant Review - Bart's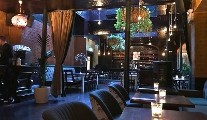 Wednesday 13 March 2019
A friend recently remarked that he really liked the notion of high/low dining, where they serve tip top fare but in a relaxed, faff-free environment. It's a trend that's taken off all over the world, with hotels and restaurants ditching the napery and simplifying their decor to compete with hip restaurants which have been opening everywhere, even in tiny unlikely locations from markets to trailers to shacks.
The latest to go with the high/low ethos is Bart's, a big new bar restaurant on South William Street, where, in the kitchen, Matt Fuller is at the helm. It's the reincarnation, by long time restaurateur Jay Bourke, of his former Eden Bar & Grill. Like a number of others in the biz, Bourke has had his share of financial controversy but times move on, and he was always a great ideas man.
Now, with a theatrical, sexy 30's Shanghai meets 70's Biba' style – think red Chinese lanterns, a purple embossed wallpaper ceiling, ginormous candelabras, dark corners, low lighting and great music – it's all about small plates at small prices, but of a level that would sit comfortably in a Michelin starred restaurant.
Indeed, Fuller's pedigree includes Restaurant Patrick Guilbaud, L'Ecrivain and the 3-star Michelin El Poblet in Denia in Spain. In recent years, he's been at the Fitzwilliam Hotel in Dublin, and the Ice House in Ballina, Co. Mayo. He's also had his own Boqueria tapas place on Manor Street – before it became Dublin's answer to London's Shoreditch.
Unlike Dylan McGrath's convoluted Shelbourne Social menu, Fuller thankfully keeps it simple with Snacks, Dishes and Desserts. It kicks off at just €2 for smoked almonds and nothing is over €16 – and that's for the king of fish – turbot! 'Dishes' had duck bikini – don't get excited – it's a sandwich of duck and white coleslaw; while roast brill is paired with mussel vinaigrette and preserved lemon. Sirloin steak will cater for the carnivores, with hazelnut salt and black butter creme brulee; and a lamb shank agnolotti with hunter sauce features as well.
On ordering our bottle of Saladini Pilastr Pecorino 2017 (€30), we were brought great gobstopper-size Gordal green olives stuffed with almond puree and harissa, and smoked almonds. We then got down to the serious business of ordering. Wanting everything, we 'designed' our own tasting menu, as it were, kicking things off with featherweight oyster crisps (€3.50) – fragments of deep-fried seaweed drizzled with oyster emulsion and topped with pickled shallots. Arancini – two hot chunky golf ball sized 'rice balls' filled with wild mushroom (€4.50) – were followed by a totally sinful bowl of finger-licking fries (€11) lavishly coated with a glistening lobster emulsion finished with grated Parmesan. What's not to like?
Next came our 'fish course', the aforementioned turbot (€16), a heavenly affair of meaty white fish wrapped in a perfectly light golden batter, sitting in a coriander salsa, topped with a sesame seed and honey lime glaze, with decorative floral shavings of red-tipped radish.
Hoi Sin duck (€10) didn't disappoint either. It consisted of four precision cut slices, standing perkily on a suet dumpling – the perfect fodder for absorbing the rich dark sesame, soy and ginger jus with pickled ginger shavings.
Again, we wanted all or any of the desserts (€6-€8), which included 'sweets of the day' – macaron, homemade jelly, financier, and a florentine. My little baked cheesecake (€8) of Idiazabal, the Spanish smoked sheeps' milk was just perfect, offset by a clever take on the Old-Fashioned cocktail, with angostura poached pears and a quince style jelly hat. Bayveen's ricotta panna cotta (€8) was equally knockout – a couplet of dried rhubarb sticks adding height, texture and dipping possibilities to the bowl, which held a pretty presentation of the creamy pannacotta, drizzled with rhubarb puree, little meringue 'nipples', and a quenelle of cava ice-cream. What more can I say?
As it happened, Fuller wasn't at the stove on our visit and his sous Sam Moore, who has been on his team since their time in the Ice House, delivered our superb experience. We almost gave him a standing ovation!
Our bill, with service, came to €106.
Bart's
7 South William Street, Dublin 2.
Tel: (01) 670-6764
barts.ie
lucindaosullivan.com
First Published In The Sunday Independent