Our Latest Great Place To Eat - Butcher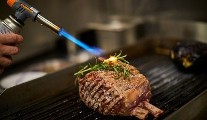 Tuesday 12 March 2019
Butcher in Kilkenny have been making a big name for themselves in foodie circles, not only for the high quality of their food, but also for their fab presentation. Nine miles away, on Summerhill Farm, they rear their own grass fed cattle, so the provenance of their meats is never in doubt. Eager to see for myself what Head Chef James Dewberry was cooking up, and with a couple of free days in hand, Brendan and I hit the road.
The atmosphere at Butcher was lively and welcoming from the moment we set foot inside. The décor is best described as industrial chic, with exposed venting and hanging old-school lighting above, lots of black metalwork and green and brown leatherette seating. I grabbed a spot along the banquette, with Brendan sat across from me, and we began perusing the menu.
Starters had hot chicken wings with pickled celery and sesame seeds; Portobello mushrooms with a garlic & rosemary jus and goats cheese on brioche, as well a salt baked beetroot salad. The smoked bbq pork ribs were tempting, and looked absolutely delicious at a neighbouring table, however, in the end I opted for a rich glazed pork belly taco with tequila poached pear and a Cashel Blue cheese dressing, which was ace. Brendan went for a king prawn 'skagen', a classic Swedish dish, and saw the succulent shellfish served with lemon sour cream on brioche bread with local Goatsbridge trout roe.
With a name like 'Butcher', you can be sure that they're proud of their meat, and, with an 8oz fillet, 10oz striploin and a 10oz rib-eye to choose from, the carnivorous amongst you will definitely have lots to choose from. Also whetting the appetite of the meaty munchers is a slow-cooked short rib, not to mention a 32oz cote de boeuf to share. From the sea, they have panfried king prawns with garlic & chilli butter as well as market specials. Brendan went for their Butcher burger served with home-cut fries, an impressive, stout offering with its smoked short-rib, jalapeno, cheese, chimichurri and carmelised onion, accompanying a generous beef patty. I went for the 'centre cut' 8oz fillet which was simply divine. Tender and perfectly prepared, and served with my selected sauce of chipotle aioli and two sides, also my choice, which were gratin potato with sour cream and mustard rarebit, and Portobello mushrooms with garlic & rosemary jus.