Restaurant Review - Grano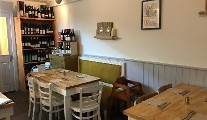 Wednesday 06 March 2019
Italian, Irish and Jewish mothers all have one thing in common: they love to spoil their sons outrageously – and this generally involves copious amounts of food! But, when you see the owner's mother bustle in to her son's restaurant, place a board on a counter, and give, inter alia, an informal demo on making the fresh pasta for the evening service, how could you not immediately be enchanted with the whole set up?
Mungo's mission
We were in Grano, a new Italian restaurant on Manor Street, which, with burgeoning new restaurants, bakeries, bars and delis, has become Dublin's answer to London's hip Shoreditch.
Grano is the venture of Roberto Mungo, who's been in Ireland for the past six years working as a sommelier for Wallace Wine Bars. He hails from Borgio in Southern Italy's Calabria region – which, with sun, sea, and great wine and food, has become very popular for summer holidays.
He's a man with a natural ability to make everybody feel special, and, once you put your foot through the door of this D7 outpost of the toe of Italy, you'll feel right at home. The menu at Grano inspired by his home region, is delivered with authenticity, simplicity and style – something I wish had been replicated by more Italian restaurants down the years, rather than sloshy buckets of 'Bolognese' drowning limp pasta.
I almost hugged the waiter when he said that the special starter of the day was fresh baby globe artichokes, filled with cheese, and then baked in the oven. It's not a complex dish – most good food isn't – but how often do we see this amazing veg on a menu in Ireland? My cupboard is filled with the tinned and bottled variety, which I like, but they're a different animal. Alas, the now departed Nico's on Dame Street is the only place I remember serving whole artichokes – sucking on the buttery gorgeousness of their thistle-like leaves.
That was one decision made without hesitation, but, of course, there was so much more. A nibbles and sharing section (€4-€6) had Martina Franca cured Capocollo ham matured with Manduria primitive wine, while toasted crostini was topped with spicy 'nduja (spreadable Italian sausage).
Starters (€5.50-€8.50) included Burrata e Capocollo with dried figs, stuffed with walnuts, and little taralli 'crackers'; baked mackerel, potatoes, herbs, red pepper cream and tender brocoletti; and spicy meatballs and Calabrian smoked ricotta.
Love to nibble
I love small plates, so adding to each of our little stuffed artichokes (€6 each), we reverted to the nibbles section for the black pig lardo (€5.50) – silky thin shavings of cured fat, draped on sourdough; plus marinated anchovies (€6) topped with charred friggitelli green peppers.
Pasta (€14.50-€17) included pumpkin gnocchi with parmesan and black truffle, while orecchiette (those 'little ear' shapes), made with burnt grain flour from Puglia, had cime di rapa (turnip greens), Senise peppers and fresh chilli. Tortelloni was filled with wild boar ragu; while fileja pasta was with sword fish, capers, black olives and wild fennel.
'Secondi" (€19-€24) featured a choice of cod wrapped in black pig lardo with a chestnut cream, Senise red pepper and black truffle; or Bombette di Martina Franca – pork neck, artisanal pancetta rolled by hand and smoked with fragno wood, caciocavallo curd cheese and cime di rapa.
How could we not have pasta with Roberto's mother working her magic, moulding each little piece around a fine dried-grass needle? So, I chose the cacao e pepe fileja pasta (€14.50), with its fab cheese and black pepper sauce, topped with chargrilled artichoke shards, while my friend had Amatriciana di Maiale Nero (€15), a divine rich sauce of black pig guanciale, tomato sauce and pecorino.
Desserts are a delight (€6-€7). There was tiramisu and Panna cotta with Sicilian cactus fig coulis, both of which we resisted in favour of salame al cioccolato (€6) – rondelles of almond and hazelnut chocolate biscuit cake served with a Sicilian blood orange reduction.
From an excellent selection of wines, mostly organic or biodynamic, we had a delicious bottle of Sardinian, Pala, Silenzi Vermentino (€29), which, with service, brought our bill to €98.
If I lived locally, I'd be there every night.
Grano
5 Norseman Court,
Manor Street, Stoneybatter, Dublin 7.
Tel: (01) 538-2003
grano.ie
lucindaosullivan.com
Fisrt Published In The Sunday Independent