Our Latest Great Place To Eat - Gigi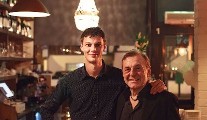 Friday 01 March 2019
Gigi is a bijou space with banquettes running down each side of the room, where you have the full vista without being in one another's faces. The menu is compact, but that's not a bad thing. Antipasti included a Tuscan rustic soup of red and black cabbage and beans; while crostino nero was chicken liver pate cooked with capers, anchovies, and roasted red onions, on toasted sourdough.
We ordered the pate and Il Tagliere di Gigi – an antipasti selection freshly carved at their organic counter, however, so lavish was it that I eye-balled Casari asking was this really the portion for one. He smiled, but was giving nothing away. So, we all smiled, saying nothing, save to cancel the pate as we were going to be hard put to do justice to the splendiferous cured meats, salumi, cheeses, and vegetables before us.
A Primi selection included saffron risotto with onions and bone marrow, while homemade tagliatelle and papardelle had, respectively, mussels, sun-dried tomatoes and mint; and a slow cooked ragout. Secondi took care of the steak man and fishophiles with tagliata or pan-fried fillet of seabass.
Tagliatelle alle cozze for the lady, had the perfect pasta, in a light sauce, tossed with plenty of mussels, while the tagliata for me was a sizeable chunk of sliced rare picanha steak with bone marrow, backed up with a very good salad of celeriac shards and horseradish, and a decent bowl of hot crispy fries.
We liked the vibe, we liked the food and we certainly liked our bottle of Le Giara Vermentino di Sardegna DOC, lingering over an extra glass, along with our luscious tiramisu, as we watched the action.