Our Latest Great Place To Eat - 3 Leaves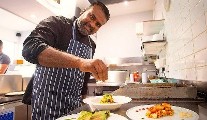 Thursday 28 February 2019
When 3 Leaves first opened, it was a simple take-out with just a table or two, however, it quickly gathered an eager following of impressed diners, proving so popular that Chef Santosh Thomas and his delightful wife Millie expanded into the unit next door, giving them a separate compact dining area. A year after that, with Santosh having won Best Chef for two years running in the Irish Curry Awards, they were able to expand yet again into another neighbouring unit giving them much more space to showcase their wonderful food and hospitality.
Thomas graduated with a degree in Hotel Management in Kerala and worked with the top-notch Taj Group before coming to Ireland some years ago to work in some of our best restaurants. However, like most people, he wanted to open his own place.
Lunch is the big thing here, but they also open in the evenings from Thursday to Saturday. Brilliant for vegetarians, as with most Indian restaurants, the menu at 3 Leaves is compact, with dishes that change regularly, at really good prices; but, when they're gone, they're gone. However, the food is as smartly presented and as good as any five-star establishment. Think Jheenga Gambos (jumbo prawns) infused in saffron and cheese with a mango sauce or maybe a slow cooked lamb rasella in a rich Qorma paste.
On my most recent visit, we kicked off with three Indian street food dishes. Pani puri were seven little wheat-flour and semolina bell-shaped hollowed-out shells filled with potatoes, chickpeas, mango, pomegranate seeds, topped with sauces and yoghurt, centred around a 'tangy water' of 12 spices. You add a couple of teaspoons of this to the shell and pop the whole lot in your mouth in one go for a true explosion of flavours. Palak pakora chaat was a blend of crispy spinach leaves stacked and dressed with five different sauces – mango, mint, tamarind and yoghurt, and a special signature sauce – along with a savoury topping. Tandoori chicken chaat was also fab, involving grilled thigh meat removed from the bone and again dressed with a variety of sauces.