Restaurant Review - Gigi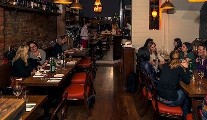 Wednesday 20 February 2019
Who doesn't love the scene in Lady and the Tramp where, under a starry sky, the two adorable pooches romantically suck up strands of spaghetti from a sharing bowl at Tony's Italian Ristorant, as the Signor and his chef serenade them with an accordion and a mandolin to the strains of Bella Notte. It's been over sixty years since this outrageously schmaltzy movie first delighted audiences, but nothing really changes – sharing plates were never more in vogue, and romance makes the world go around!
Down the ages, from Casanova to Rudolph Valentino to Sophia Loren, no other nationality has laid on the charm like the Italians.
And so I come to another Italian, a man who has graced the floors of Dublin restaurants for many a long year and has just opened a new Italian Restaurant, Gigi, in Ranelagh. Giorgio Casari, is best known for his time as co-owner, with Jeff Stokes, of the Unicorn Restaurant off Merrion Row (now under new ownership), where he greeted the glitterati and celebs ranging from Bill Clinton to Brad Pitt.
As in many such places, it's not particularly the food that draws the cafe society crowd, but the who's who and with who at the tables. Knowing how to manage this ever-delicate scene is an art in itself, and Casari, spotting a celeb at a thousand paces, worked the room like the master he is. It wasn't the famous nearby Dr. Zhivago's night club 'where love stories begin', but the Unicorn's Saturday lunches were legendary, with those partaking often ending up in the Horseshoe Bar of the Shelbourne Hotel before many an errant husband rolled home to Foxrock for the boiled egg and the cold shoulder. The recession saw the whole thing fall apart for the Stokes family, and Casari, and much was written about the ensuing financial debacle.
That's old news now, and Casari was as urbane and charming as ever when we arrived, shortly after Gigi opened. A number of the red-bricked D6 legal eagle and other professional Italophile types were settling in, sniffing corks and reminiscing on the summer's lease in Tuscany - a subject on which the late barrister author John Mortimer wrote a cynically hilarious book some years ago.
Portion contortion
It's a bijou space with banquettes running down each side of the room, where you have the full vista without being in one another's faces.
The menu is compact, but that's not a bad thing. Antipasti (€6.50-€20) included a Tuscan rustic soup of red and black cabbage and beans; while crostino nero was chicken liver pate cooked with capers, anchovies, and roasted red onions, on toasted sourdough.
We ordered the pate and Il Tagliere di Gigi (€15/€20 for 1/2 people) – an antipasti selection freshly carved at their organic counter, however, so lavish was it that I eye-balled Casari asking was this really the portion for one. He smiled, but was giving nothing away. So, we all smiled, saying nothing, save to cancel the pate as we were going to be hard put to do justice to the splendiferous cured meats, salumi, cheeses, and vegetables before us.
A Primi selection (€16/€17) included saffron risotto with onions and bone marrow, while homemade tagliatelle and papardelle had, respectively, mussels, sun-dried tomatoes and mint; and a slow cooked ragout. Secondi (€22/€24) took care of the steak man and fishophiles with tagliata or pan-fried fillet of seabass.
Tagliatelle alle cozze (€16) for the lady, had the perfect pasta, in a light sauce, tossed with plenty of mussels, while the tagliata (€24) for me was a sizeable chunk of sliced rare picanha steak with bone marrow, backed up with a very good salad of celeriac shards and horseradish, and a decent bowl of hot crispy fries.
We liked the vibe, we liked the food and we certainly liked our bottle of Le Giara Vermentino di Sardegna DOC (€32), lingering over an extra glass (€8 each), along with our luscious tiramisu (€6), as we watched the action.
With bottled water (€3.80) and coffees (€4), our bill, with service, came to €128.60
Gigi opens 7 days a week serving a good value lunch menu from noon to 4pm, brunch at weekends, and dinner.
So, with Valentine's Day approaching, take your love for a bit of Italian charm, but don't expect them to warble Bella Notte or Lara's Theme.
Gigi
53 Ranelagh, Dublin 6.
Tel: (01) 496-7093
gigiranelagh.ie
lucindaosullivan.com
First Published In Sunday Independent