Our Latest Great Place To Eat - The Lobster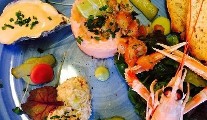 Friday 15 February 2019
A paradise for outdoor enthusiasts, from surfers and deep sea anglers, to golfers, hill walkers and ramblers, Waterville is also home to some great restaurants, bars and cafes.
Being on tour, as it were, and, having heard great things about The Lobster Bar & Restaurant; friend Bayveen and I stopped in for a lunchtime repast.
A traditional pub, which has been on the go for over 50 years, it was taken over by James Doyle and his wife, who relocated from Dublin. They totally refurbished the bar and brought the menu up to date, serving up top-notch gastro grub in a relaxed and cosy setting with great atmosphere being lent to the room by their open fires. They've earned a reputation for beautifully prepared fresh seafood, and, being so close to the ocean, there's lots of fresh and locally sourced fish to be had.
On our visit, starters included a selection of warm artisan breads with hummus, sundried tomatoes and olives, as well as a gluten free vegetable soup, with brown bread and Irish butter. But, with fresh seafood being the big draw, I went for their homemade seafood chowder which a proved a hearty offering of fresh and smoked fish with veg, saffron and herbs. Bayveen, on the other hand, kicked off with a half a dozen oysters, au natural.
For the mains, there was classic fish & chips cooked in a beer tempura and served with tartare sauce and a pea puree; a braised beef and Guinness stew with pearl onions, veg and a potato puree; as well as a warm chicken Caesar salad. There are some great meaty offerings available also, like their homemade 10oz beef burger lavished with smoked bacon and cheese and served in a flour bap with pickled cucumber and house relish; as well as a 10oz dry aged sirloin steak served with caramelised pearl onions, balsamic Portobello mushroom, pepper cream and a side of steak chips.
It's called The Lobster, so we knew there'd be a hell of a lot of fish, and their fab daily specials were spoiling fishophiles with the likes of crab, prawns, mussels, salmon, scallops and of course, the eponymous lobster; which I plumped for. Lobster is a real treat, and I always feel it's a pity to deflect too much from its own natural flavour by adding too many sauces and toppings. Here it was simply cooked, split in half and served with garlic butter, salad and fries. Bayveen opted for their popular seafood pie of fresh and smoked fish, with fresh herbs, a mixed leaf salad and smoked Cheddar mash, which went down a treat.