Restaurant Review - Variety Jones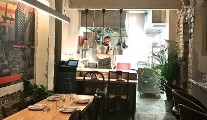 Wednesday 13 February 2019
Restaurants, bars and hotels are being opened apace in Dublin by big boys, such as the Press Up Group, who have over 30 venues and counting. However, by now, even the most ardent 'about towners', who move on to the new hot spot before the paint is dry, must be getting tired of the faceless, formulaic format of spectacular decor matched with food that is 'middling, only middling'.
So many venues are being launched by this type of operation that I've had to start passing on some, as I'd merely be part of their PR machine, featuring them every second week. I prefer quirky fringe locations, where the talented young guns are doing really interesting things, with a devotion and love lacking in the big impersonal operations, but it can be so hard for the ordinary Joe Soaps to get a premises in Dublin now.
And so, It was a joy to visit the new Variety Jones on Thomas Street – just opened by Chef Keelan Higgs, who's on his first solo venture – and, while Thomas Street is not Dawson Street, it is an edgy up-and-coming location with lots of development happening, just as Camnden Street was ten years ago.
The restaurant, which needed some serious TLC prior to opening, was previously a tattoo parlour, among other things, and Higgs and his brother Aaron, who's front of house, had "sleepless nights and back breaking labour, but, if you want to make a dream come true, you have to apply yourself fully. We had to strip back layers and layers of stuff ourselves".
A narrow shop-front, and a long narrow room, lead to the open kitchen at the back, where Vanda, the delightful sommelier, placed us at the chef's table – a cute little two-seater counter right in front of the pass – so, we couldn't have been more involved in the back and forth.
Keelan Higgs, originally from Greystones, has a top-notch reputation as a chef, along with a pedigree that includes Chapter One, The Greenhouse and Locks. The menu is not large, but every morsel we had was, as my friend Mary said, memorable. Higgs has a way of making things seem so simple, but everything is classicly cool and delicious with fresh dressings with butter and herbs, curds, hearth-roasted celeriac and wild mushrooms. It's all very now. "It'll be a long time before I'll be putting ten or twelve little things on a plate again." He said.
We were presented with a brace of snacks – two mouthfuls each of crispy artichoke skins topped with a Comte cream, and a duo of oysters with a sweet sour Vietnamese dressing – which would normally be €5 each, but it would have been ungracious to decline. Oh boy, they were good.
Family Style
A trio of starters (€13-€15) included hearth-grilled vegetables with barley and curd. Mary's sublime rich silky foie gras and chicken liver parfait (€14) was in a little black cast iron cassolette, topped with crispy shallot strands and sweet and sour onions, served with potato-bread waffles. Grilled florets of cauliflower (€14) for me were singed and gloriously enhanced with the complementary flavours of burnt yeast, topped with slivers of sea trout, brown butter, and vibrant salmon roe.
For the mains, there were three dishes to choose from – a pasta option of Comte ravioli (€16) with hearth-roasted mushrooms and a mushroom broth; or two 'family-style' dishes – hearth-grilled sole (€50) or venison loin (€60). You do get a shock when you see the €50/€60 mark, but then you cop on and realise that it's only €25/30 each. In fact, by the time we'd shared a sublime large sole on the bone, topped with a cockle and mussel sauce, laid alongside long plumes of grilled Cavolo Nero, and served with a little pot of warm potato and smoked eel salad, we knew we'd had the bargain of the year.
Our joy continued with a rich dark treacly Jamaica cake (€9), paired with caramelised pineapple, vanilla and coconut cream, and Sarawek pepper. The wine list is well chosen and well priced, and you can have any of the wines by the glass. We had a delicious bottle of Bender Riesling Paulessen 2017 (€35) from the Mosel, which, with one coffee for Mary (€2.50) and optional service, brought our bill to €136.95.
Go now. Soon you won't be able to bag a table here for love nor money.
Variety Jones,
78 Thomas Street, Dublin 8.
Tel: (01) 454-4976
varietyjones.ie