Restaurant Review - Shelbourne Social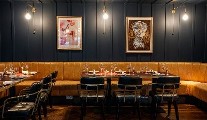 Wednesday 06 February 2019
Shelbourne Social is the latest restaurant from Dylan McGrath and his business partner Vincent Melinn, who also have the South Great George's Street-based Rustic Stone, Taste at Rustic, Bonsai Bar, and nearby, Fade Street Social. This is their first move outside D2 since McGrath's Mint in Ranelagh, where he achieved his Michelin star and his first brush with notoriety in the fly-on-the-wall TV series, The Pressure Cooker.
Shelbourne Social — let's just call it SS for now — with its prices and location in the new glass towers of the Number One Ballsbridge development, is at the heart of D4 rugby central; its core diners will most likely be used to designer logos anyway. With a lot of pre-opening talk of €120 steaks and massive this and that, I was visualising the Titanic sitting on Shelbourne Road.
So I was pleasantly surprised when going onboard through the apex bow-end door and passing a cocktail bar, to find it was like a more-contained 85-seater luxury cruise ship, with a bar on the next deck up. So, with giant meaty offerings and a masculine vibe by London designers — who've also designed the hospitality suites at Arsenal Football Club, London Stadium, Manchester's Etihad Stadium, and Anfield — can we expect strains of The Fields of Athenry on match nights?
I'd recently written of my visit to Fade Street Social, which was pretty disastrous, so I wasn't expecting the red carpet when I rolled up on SS's first night, but McGrath is a professional, and bounded over — wearing a Healy-Rae cap, which, like the Kings of Kerry, stayed on for the evening — saying, "You're quick off the mark".
Bayveen felt the menu was very complicated — she was right. I know chefs like a new angle, but this is like an IQ test. Four top development chefs had a hand in the pot, and you'd wonder if there weren't 'too many cooks'...
With prices ranging from €6-€160, the menu has eight too-cool-for-school headings: Hot Curd Bread; Crudo; Appetiser; Nearly Cooked; From the Market; Starch; Fish; Meat — each section a litany of small plates, starters, sides, mains, or a sharing dish, at varying prices. So, you're trying to work out what might go with what in which section. It's like a Rubik's Cube. Why can't they keep things simple — particularly when the main players are sharing steaks and roasts?
Curds and Wagyu
The Hot Curd Bread section (€6-€22) had seven options alone — pulled lamb; Oscietra caviar (market price), et al. The Crudo (raw) section (€9-€60) included oysters; scallops; and o-toro tuna; while Appetiser (€12-€26) featured chicken wings; or Iberico ham. On it goes — Nearly Cooked featured Dexter beef tartare; razor clams; while From the Market had veggie dishes; Starch (€5.50-€45) featured super-thin home-made fries; and Wagyu beef on crispy potatoes. The menu concludes with Fish (€30-€45); and the much-talked-about Meat (€30-€160).
I didn't see the hyped €120 steak figure, but, an 18oz rib-eye for two is €70; slices of crispy pork belly were €30; while "a whole plate of smoked short-rib", serving four people, was €160. Short-ribs are cheap as chips, €40 a head seems off the wall. Looking too at McGrath and his aides slicing a duck (€100 for two to three people) from a trolley at the next table, I thought, "You're a very pricey quacker".
With Japanese influences throughout, curd bread with foie gras, poached winter plum, shiso, Riesling and toasted pine nut (€22) caught my eye. Luckily, it was the plum aspect that attracted me, for the foie gras was but a fine grating of the chilled liver over the fruit - like Parmesan cheese. Bayveen's crab (€16) had two claws set on raised board alongside a crab shell holding a a clump of sushi rice lightly mixed with crabmeat, mojo sauce, lemon and herb. It was quite tasty but rice felt like padding to the main event – the crab. Too many mains are for two to four people only.
I fancied skate baked in sticky onion sauce, but it was for two, so instead I had a tasty enough crispy rice pot (€30), presented in a Le Creuset casserole, topped with prawns, soft-shell crab, fried corn and mole cream and corn stock. Bayveen enjoyed her wild forest mushrooms (€17, pictured left) which were tossed in Madeira, and served with pickled pistachio and slivers of Tete de Moine cheese.
A discount of 25pc was applied to everyone on the first night, bringing our bill, with a bottle of La Smilla Gavi DOCG 2017 (€39.50), and service, which was excellent, to €108.37.
It all felt like fur coat and no knickers; performance and presentation over substance.
Shelbourne Social
Shelbourne Road, Dublin 4.
Tel: (01) 963-9777
shelbournesocial.com
lucindaosullivan.com
First Published In The Sunday Independent