Our Latest Great Place To Eat - Kyoto Asian Street Food Clonmel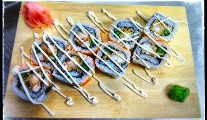 Friday 25 January 2019
They've now opened a second branch, in nearby Clonmel, where enthusiastic foodies are flocking for a taste of their eclectic Asian street food.
The restaurant itself is clean and simple, with a warm polished-wood decor throughout. Airy and casual, the room is really quite inviting; perfect for a lunch or dinner-time meal, or just to grab a quick bite of their sumptuous sushi.
The menu has so much to choose from, with their sushi and sashimi being one of Kyoto's big draws. Freshly made to order, and never leftover from the previous hour, at Kyoto, they are dedicated to providing only the freshest finest food.
Their sushi nigiri sees tasty rice balls being served with a choice of filling from salmon, tuna and prawn to octopus, squid, eel and veg options as well. Norimaki, seaweed-rolled sushi comes in hearty portions with salmon and avocado; tuna and cucumber; as well crabmeat fillings available. They do small 5-piece sushi selections as well as larger 12 piece ones, as well as delicious salmon or tuna sashimi.
For a more traditional, starters and mains meal, they have some great bites for getting started. Favourites like skewered chicken satay and spring rolls with sweet chilli sauce are there as well tempuras of chicken, prawn, seafood or veg. Their garlic yakitori of grilled and marinated chicken thigh is popular, not to mention the delicious deep-fried gyoza, available with chicken, pork or yasai, and served with a sesame soy sauce.
The mains has something for everyone with a big selection of curry, noodle and wok-fried dishes to choose from. Their Wok Stars – served with rice or noodles, and a choice of meats from chicken, duck and beef, to prawn, monkfish and veg options too – include a tasty sounding Malay satay of onion, green peppers, courgette, carrot and spring onion; as well as a stir-fried black bean dish that sounds good. Do try their General Tso's deep fried dish, it's very good.
Their curry menu, also offering rice or noodles with each dish, has old reliables like the Thai green curry or a standard chicken dish; as well as some more exciting fare like Rendang, a spicy curry of ginger, lemongrass, onion, garlic, cumin, lime leaf and coconut milk; or, to really put your taste buds to the test, try their Firecracker curry with onions, red chilli, peppers, fresh beans and a homemade fiery sweet and hot sauce. Most of the curry dishes are available with a choice of meats.