Restaurant Review - Cafe en Seine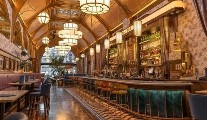 Wednesday 23 January 2019
With the two juggernauts of Dublin dining – The Ivy and recently re-opened Cafe en Seine – now up and running on Dawson Street, it will be interesting to see how they square off in each corner.
The Ivy, having given itself a great welcome to Dublin and an overdose of PR publicity, has somewhat lost its sheen, having managed, rather spectacularly, to score a few publicity own goals.
I'm not talking about their refusing to de-shell my lobster claws but, more importantly, Joe Duffy's Liveline was hopping when it emerged that its Gift Vouchers had to be used up entirely on one visit – you couldn't carry over any balance, and people were reputedly staggering out, carrying bottles of wine they'd bought to use up their voucher balance.
The policy was condemned by the Consumers Association of Ireland as purely wrong. Then there were questions as to the Ivy's food sourcing, and whether it was all wheeled in from Brexitland. They took out a full page ad, which raised more questions than it answered, saying "The Ivy is proud to announce that we have now reached the stage that all meat, fresh fish, vegetables, dairy and bread is of Irish origin or sourced in Ireland." So, does it go out of Ireland to come back, or is it seventh generation Irish looking for a passport?
And, then there was the tips debacle, where unhappy waiters were asking guests to leave tips in cash, and a subsequent management notice to staff hit social media, and every other media, in jig time. Posh stuff.
So, to Cafe en Seine after its €4m refit by the Mercantile Group. Set over three floors, and holding up to 1,300 people, it runs from Dawson Street to Anne's Lane where, at the rear, beneath a retractable ceiling, they've created a tree-lined boulevard with little shops and cafe tables. With a French-inspired decor, it doesn't quite have the Versailles Hall of Mirrors but, for the modern-day Marie Antoinettes or Madame de Pompadours, its 'see and be seen' bars are perfect for promenaders, and no doubt 'some enchanted evening…across a crowded room.'
Chef Stephen Gibson is the man tasked with getting the mammoth dining operation right. Gibson is a fine chef, with a background that includes the two-star Michelin Fauchon in Paris; Nico's on Park Lane; L'Ecrivain; and Pichet on Trinity Street, which he co-owns, and is also part of the Mercantile Group.
Sharing our experience
It's all about high-end casual food, which can be had in any of the bars, or in the restaurant area. Small plates (€2.50-€12) offered a choice of fifteen, including mushroom bruschetta with ricotta; steak tartare with brown butter egg and beef dripping toast; crispy duck wings, chilli miso and sesame; and rock oysters
Mains (€16-€31) included a good-looking burger with Coolea cheese in a brioche bun; Feighcullen farmyard rotisserie chicken with fennel slaw; and an aged striploin. 'Mains to share' (€60-€75) included grass-fed Irish rib of beef; and Moroccan style lamb shoulder.
We shared five small plates, plus sides of mac 'n' cheese and fries (€4.75 each). We kicked off with a divine seared king scallop (€4.50) resting in its shell on finely diced Merquez sausage, and corn puree. Rondelles of tuna sashimi were offset with diced watermelon and yuzu ponzu (€10); while we also loved spears of roast salsify (€7), to which a depth and sweetness was added by Gorgonzola and Madeira. Gambas a la plancha (€12) were superb – the perfect finger food with burnt lemon and salt; and we rounded off with crab mayo in a brioche roll with sorrel (€9). All were delicious and good value for money, which is not always the case.
Tipple tarrifs
When it comes to drinks, there are cocktails (€13) and spirit menus to beat the band. However, there was only one wine breaking the under-€30 barrier at €29, and, after that, it's a rapid jump up. There were five reds and whites by the glass – I'd have liked more – and no 50cl carafes. I winced when I saw the ubiquitous plonk du jour, Picpoul de Pinet, even if it is 'Prestige', at €40. I could pick up in France for around €8 – and lesser ones from €3.50.
So, with bottled water (€6), a glass each of Les Oliviers Sauvignon Vermentino 2017 (€8.50) and Marlborough, Hunky Dory (€10.50), our bill with service came to €83.20.
Cafe en Seine,
40 Dawson Street, Dublin 2.
Tel: (01) 677-4567
cafeenseine.ie
lucindaosullivan.com
First Published In The Sunday Independent