Our Latest Great Place To Stay & Eat - Roseville House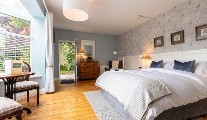 Tuesday 22 January 2019
I really love East Cork; it has so much to offer with spectacular coastlines and unspoiled scenery, but also fab towns like Lismore with its amazing castle owned by the Duke of Devonshire, or the busy market town of Midleton with its Jameson Distillery, not to mention the historic seaside village of Ardmore.
The beautiful seaside town of Youghal, in Co. Cork, has long since been a desired destination for tourists. It's a place of exceptional beauty with so much to see and do; from its historical sites, to its sandy beaches to the bustling tourist town itself, and was used to create the dramatic setting, many years ago, for the famous movie Moby Dick starring Gregory Peck.
Being right at the gateway to Ireland's Ancient East and a stones throw from the Wild Atlantic Way, it's the perfect spot for eager explorers to set up basecamp as they prepare for their outdoorsy adventures. For the less rugged amongst us, there's no need to panic; Youghal has great food and drink, particularily seafood, with lots of restaurants, bars and shops for eating, drinking and unloading some of that pesky travel cash.
Being on the road so much myself, I'm always looking for that great place to stay, that has that special touch of magic, with wonderful welcoming hosts, and it exists in Richie and Caroline Foley's Roseville House. A far cry from the bog standard B&Bs of yesteryear, this stunning Georgian house, built back in 1838, exudes charm and good taste, with amazing attention to detail, and is an ideal retreat for anyone with a romantic bone in their body.
Roseville House offers guests a choice of two beautifully reappointed garden rooms, each featuring its own entrance from the garden courtyard, giving guests total privacy from the main house.
The Garden Room is a large ground floor space, complete with king-size bed, flat screen TV, Wi-Fi and luxurious, crisp white Egyptian cotton bed linen. The bathroom is nice and roomy and features a walk in rainforest style shower. If you find yourself feeling a little peckish during your stay, then just grab a snack from the room's hidden larder, stocked with cereals, snacks, teas and local ground coffee. There's also a toaster and fridge with complimentary water and fresh milk.
Their other room, the Garden Room Suite, offers all of the same amenities with a few extra perks...