Our Latest Great Place To Eat - The Grapevine Wine & Tapas Bar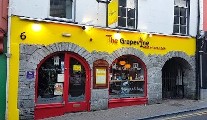 Thursday 10 January 2019
On a girly day out to Kilkenny recently, friend Bayveen and I found ourselves famished and feverishly scanning our phones for a hot tip on some good eats, when we came across the Grapevine Wine & Tapas Bar. Looking bright and fun, it seemed like the perfect choice, and we were soon proved right.
The tapas menu here is extensive and offers a wide variety of tastes and textures, with dishes like four cheese quesadillas with chilli jam; BBQ ribs in a sticky Irish craft red ale; as well as BBQ style pulled pork sliders with a chipotle slaw. Their 'Bosses Mammy's meatballs' sounded sounded good as did the fabada asturiana – a homemade bean pot served with chorizo, pancetta, tomatoes and garlic bread. Fishophiles aren't left short either, with calamari, pan-fried shrimp and a surf n' turf option with crispy duck medallions and prawns rounding out the menu.
We decided to order four dishes to share. Bayveen's first pick was the truly tasty teriyaki salmon with 'mojo' sauce, which had a nice zingy lime and coriander flavour, whilst my front runner was a spicy Italian dish of diced lamb, slow-cooked in marsala and juniper berries which we both enjoyed immensely. Also on Bayveen's wish list were some crisp and scrumptious sweet potato fries, which arrived with a nice chilli mayo dip. Our fourth and final plate was a delicious dish of baked black pudding served on a potato cake served with a healthy blob of redcurrant jelly.
We finished off by sharing the smaller-sized cheese plate which was served with a basket of fresh country loaf, fruit and a little pot of relish.
They also offer a great selection of bruschetta at The Grapevine; from your standard tomato and basil to a fab 4oz rib-eye steak bruschetta with peppercorn sauce or Cashel blue cheese.