Lucinda's Lookback 2018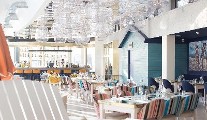 Wednesday 02 January 2019
2018 was a great year in the foodie biz. It saw new restaurateurs planting flags as well as old hands breaking new ground. There were train wrecks and triumphs, bags of flash as well as serious substance. So, sit back, and enjoy the 'meat' of a year spent touring tables, coast to coast.
January
Ida's, a neo-Nordic restaurant, proved too cutting-edge and pricey for Dingle's tourists and sadly folded before the ink was dry, or my review was published. In Dalkey, after 40 years, Mervyn Stewart, of the legendary Guinea Pig, handed over the reins to French chef Jerome Fernandez, who, in turn, folded his La Reserve in Ranelagh.
I finished the month with a visit to La Brasserie in Maynooth where, with Champagne and oysters on the counter on a weekday lunchtime, there was more bling than Aristotle Onassis' yacht.
February
We headed to Old Town on Capel Street for Chinese New Year, where a few of red paper lanterns stuck up with tape were the height of the jollity in evidence, as we sat in a freezing-cold room with our coats on eating mediocre noodles.
Sunday brunch in Bun Cha, a Vietnamese eatery on Moore Street, was a train wreck from start to finish. The shutters were down when we arrived for our booking and we were told to wait outside. Certain dishes were unavailable as some of food was not ready, but they did have a bowl of noodles for me with slices of awful beef ingrained with firm gelatinous layers. Did I mention that the loos were out of order?
Glover's Alley by Andy McFadden in the former Thornton's on St. Stephen's Green was being over-hyped like crazy in February. A friend had declared he'd no time in his life anymore for arsey places and, when I arrived, I pictured him, in my mind's eye, reversing backwards into the lift. The atmosphere was overly precious but the food was spectacular. It has since relaxed and McFadden's food just gets better.
March
Again with a big PR push, Elle's opened at the new Iveagh Garden Hotel on Harcourt Street, but, the offhand besuited meeter-greeter brought to mind the motto of hospitality expert, Fred Seriex of First Dates UK – "see, smile and say hello to people, before they see, smile and say hello to you". The food wasn't too great either.
In total contrast was a fab visit to Ashford Castle, which had completed of all its amazing renovations. It's certainly the place of dreams but in a nice very Irish way – sublime, friendly but unobtrusive service and amazing food.
Sunday brunch in Three Leaves, a tiny Indian restaurant in Blackrock Market, was delightful. Run by Millie & Santosh Thomas, he went on to win Best Chef in Dublin in the Irish Curry Awards for the second year running.

April
It was a fishy month, with the opening of the upmarket Sole on South William Street, where all the big fish are dining and where giant Alaskan crab and other denizens of the deep gaze out from behind glass counters.
April also saw the opening of The Baths at Clontarf, which featured spectacular decor, views out over Dublin Bay and two big yellow rubber ducks sitting in the actual baths.
May
In Cork, at Chef Takashi Miyazaki's new Ichigo Ichie, I enjoyed a 12-course haute cuisine Japanese experience. When you think of it being €300 plus for this kind of thing in London, €95 seems like pretty good value, and the Michelin man liked it too. But, I'd still like an 8-course option.
June
Chef Peter Everett returned home to Waterford, taking it by storm with his Everett's in the old Wine Vaults of the 15th Century John Collyn House.
In Dublin, at Ananda, in Dundrum Town Centre, new young Head Chef, Karan Mittal, wowed even the most cynical, and proved he is a superstar in the making.
July
July was a month spent either on the road, or sitting at my desk, feverishly cementing my '20 Best' lists, which included gastropubs, seafood restaurants, foodie road trips, pizza places, street food stop offs and so on. From converted cow-box pizza trailers to Michelin-starred French fancies through markets and tearooms, there's just so many great places to choose from out there.
August
I visited Mews in Baltimore, west Cork, and with great food and a smiling staff, I enjoyed every minute – as did Mr. Michelin who was also there.
The Ivy arrived to Dublin's Dawson Street, but their fanfare and flash didn't make up for the staff's unwillingness to de-shell two small lobster claws.
The Grayson also opened, in the former Residence. The food was good, but I did want to push some of the stool-hogging Prosecco ladies off their perches.
September
Visiting the Steps of Rome, which had upped sticks from Chatham Street some time back to the suburb of Windy Arbour, felt like it had traded its city chic status for the world of neighbourhood nosh.
In Co. Meath, The Forge, which had a new chef, offered a tired, fusty atmosphere with a plethora of old bric-a-brac. It felt like a cross between the Good Life and Lovejoy. A skip was recommended.
PR people always over-egg their client's attributes, but, back in Dublin, in Nick Munier's former Avenue, when the newly opened Crow Street failed to deliver the promised "foot-stompin" Southern American food, it was no surprise to receive an email to say "we have changed our Head Chef since your visit…"
October
Having visited The Dalkey Duck in SoCoDu, when it first opened, and finding the menu very basic, its goose was cooked as far as I was concerned. However, a repeat visit saw this duck rise like the phoenix, with great food and a rock band to finish off the evening.
I visited The Carriage House, the 'casual' dining option (everything's relative) of Adare Manor in Co. Limerick, at which head horsey honcho, JP McManus had thrown millions. "It's easy to see how the rich can stay thin, if you'd someone to knock this up for you", said my friend Rena of her King Crab carb-free salad.
With Rob Krawczyk's Chestnut in Ballydehob being the 3rd Michelin Star awarded to the Rebel County, I made a round trip during Storm Calum, and a blackout, to check it out. I'd had Krawczyk's food before, but what I experienced here was next level. It was like a trip through the fields, forests, flora, fauna and oceans of West Cork. My meal of the year – no doubt.
November
With another huge PR push, and freebie tastings for journos and bloggers, Dylan McGrath was launching a new Gastrobar menu at his Fade Street restaurant. Rolling up for dinner after all the hype, what we got on the plate was bad value and a far cry from the super-cool publicity photos. We left hungry and annoyed.
Sick to death of the non-stop nonsense of foodies on social media whining about the best pizza spot, I was delighted by the new pizza-free Del-Fino on Camden Street, where high end Italian eats from osso busco to braised rabbit pappardelle to Lobster Fra Diavolo made it a real slice of heaven.
The Press Up Group continued its domination of the hospitality industry with The Devlin hotel in Ranelagh. It was more 'gastrobars with rooms' than a hotel; but 'all the bells and whistles' in the pod bedrooms don't disguise the fact that they're no bigger than the Ranelagh bedsits of the 70's. The D6 red-brick brigade were all out on its first night. The food was good in its restaurant, Layla's, even if the sole on the bone was more 'slip' than sole.
December
I popped into the new Da Mirco's in Cork for some authentic home-style pasta from the former Farmgate manager. He wasn't there. But, what really put a smile on my face was a Negroni Sbagliato – Campari, Martini Rosso and Prosecco – the supposed favourite cocktail of the one time high living Irish clergy in Rome – sans the gin.
Jules Mak opened in friend Dery Desmond's Zozimus Bar on Anne's Lane serving dim sum and other delicious Chinese food. Why not a Five Guys burger joint, I wondered, as Dery an his brothers have been expanding their franchise – the place is certainly big enough…
lucindaosullivan.com
First Published In The Sunday Independent