Restaurant Review - Mak at Zozimus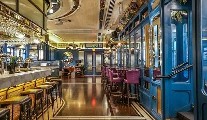 Wednesday 02 January 2019
The apple doesn't fall far from the tree, they say, and that's certainly true of Jules Mak, who, besides having an eponymous eatery in Ranelagh, has just teamed up with Dery Desmond's Zozimus Bar in Anne's Lane to bring his Hong Kong style Dim Sum and Chinese food to D2. For many years, Jules' father, Rodney Mak, had one of Dublin's top Chinese restaurants – Furama in Donnybrook. The haunt of RTE's best known faces, who trotted in and out over its decorative little bridge for their regular fixes of Rodney's soft shell crab and aromatic duck, it closed towards the end of the recession. Jules, moving with the times, opened in Ranelagh offering lots of small plates, and bigger ones too, in a contemporary setting.
Finding the flavour
You can't miss the spectacular sky-high canopy of coloured umbrellas outside Zozimus, which opened a couple of years ago. Named after a blind Dublin-born ballad singer from the early 19th Century, it's a big space with a central bar surrounded by leather banquettes and booths. Despite cocktails by the bucket-load from Crouching Tiger Hidden Basil to Polynesian Daiquiris (€12.50), plus a legion of specialty rums, gins, vodka and all the rest to entice, the food offering wasn't cutting the mustard. Dery and Jules have been lifelong friends and, following a successful pop up there a couple of months ago, Jules decided to come on board. So, it's drinks by Zozimus and food by Mak.
Norah Casey has always told me how much she loves Mak in Ranelagh, so it was no surprise that she was ensconced when I arrived, while Boyzone's Keith Duffy was in another booth.
Bite-sized brilliance
Food is served from 5pm each evening with brunch from 12pm-4pm on Saturday and Sunday. There was only one problem with the menu, as far as my friend Bayveen and I were concerned – we wanted everything on it!
Nobody loves their food more than the Chinese, and you'll find them en famille on Sundays tucking into dim sum – little bite-sized dumplings, traditionally served in steamer baskets, or on small plates – with tea until mid-afternoon. Nowadays, it's dim sum anytime.
Mak had eight dim sum varieties (€7/€9) including three pot stickers – spicy chicken, cumin beef, and vegetable. Char sui steamed bao buns were there as was pork shu mai – steamed pork dumplings. We chose just one dim sum each – prawn har gau (€7) and chicken pak choi dumplings (€7) – as we were intent on indulging further. A trio of each morsel were pretty as a picture, translucent steamed prawn 'bags' with bamboo shoots in a chilli soy oil and crescent shaped chicken dumplings on a black plate with ginger and pak choi.
The small plate stampede
Mains were €17-€25 (plus a cote de boeuf for 2 at €65), some of which we saw at a neighbouring table of four men, which looked stunning – roast Peking duck; Dongbei pork: yal gal – creamy chicken curry, and Shitake drunken prawns.
We, however, fancied a few starters (€7-€12), or small plates as they say now, of which there was a choice of 15. Szechuan scallops (€12) had three silky seared molluscs in a spicy sauce topped with crumbed pork belly crackling, while you sha (€11) was a brace of firm bulbous sizeable crab claws, wrapped in minced prawn and panko breadcrumbs, lightly fried and served with a chilli soya vinaigrette. Aromatic duck was available at €12/€23, of which we had the smaller size. It's hard to beat the pleasure of smathering hoisin sauce on a freshly-steamed warm pancake, topping that with shredded crispy duck, cool cucumber batons and julienned spring onion, wrapping it up and crunching it in your mouth.
Our fourth dish was delicious panko crumbed fingers of aubergine (€7), tossed with garlic, chilli, spring onion and onion in a salt and pepper 5 spice mix served with Sriracha sauce. My new fave. With these, Bayveen had a side of excellent Singapore noodles (€5).
We passed on puds, and, with two glasses of Valencian Macabeo, Finca Valero 2016 (€7.50 each) for Bayveen, and a glass of Mosel Riesling, Villa Huesgen 2015 (€9) for me, and service, our bill came to €95.
Much like the Terminator, I'll be back.
Mak at Zozimus
Centenary House,
Anne's Lane, Dublin 2.
Tel: (01) 536-9640
zozimusbar.ie
lucindaosullivan.com
First Published In The Sunday Independent