Our Latest Great Place To Eat - Cinnamon Garden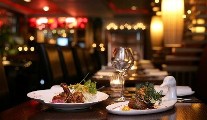 Thursday 20 December 2018
From the moment you set foot into the Cinnamon Garden, you know that good things are in store. The atmosphere has some traditional Indian nods, but the overall feeling is contemporary and anything but stuffy. Instead it feels warm and welcoming and would be perfect for a social group dinner, a meal with a friend or an intimate evening with someone special.
The menu is expansive and wonderfully varied, offering lots of authentic and delightfully fragrant dishes. Starters included crispy lamb mince samosas, pan-fried aloo tikka (potato cakes), as well as bhatti ka murgh, a tasty sounding dish of chicken thighs marinated overnight with hand pounded spices, garlic yoghurt and pomegranate. Their king prawn zaffrani came highly recommended, as did a trio of individually marinated pieces of chargrilled chicken, however, I kept my eye on the prize, opting for Chef Rajesh's special of tawa machi, a delicious tranch of tilapia fish marinated with south Indian spices and cooked to perfection on their griddle. Mary went for the lamb seekh kebab and was more than happy with the succulent meaty offerings that arrived served with a mint pesto.
For the mains, there was so much to choose from that we didn't know where to start. All the classic faves are there, from chicken korma, to a vindaloo, to a lamb biryani, and lets not forget the much-loved chicken tikka masala. The menu, however also includes lots of less familiar dishes, just waiting to tickle your taste buds. Their Rajasthani gosht sounded good, with slow-cooked lamb being infused with a blend of aromatic spices, as did their chettainud dish cooked with black pepper, cinnamon and clove stewed with curry leaf and coconut (available with chicken or lamb). They have a whole host of vegetarian sides dishes too, from stir-fried cauliflower to braised chickpeas to some tasty paneer cheese.