Restaurant Review - Da Mirco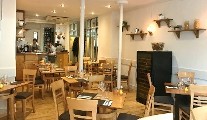 Wednesday 19 December 2018
Cork may be all puffed up and delighted with it's new Michelin star at Takashi Miyazaki's tiny Ichigo Ichie restaurant on Fenns Quay, but the fact of the matter is that very few new restaurants have been opening in the city. It seems rather odd, seeing as we're back in boom times, as it were, and it's almost impossible to keep up with all the new restaurants opening in Dublin every week.
All of the Cork foodie activity is in West Cork and, with Michelin giving its imprimatur to The Mews in Baltimore and Rob Krawczyk at Chestnut in Ballydehob, and Eddie Attwell being a hot name to watch at the Eccles Hotel in Glengariff, this is really only the beginning for this burgeoning culinary triangle. Success breeds success, as other chefs seek out opportunities and events in the area.
A modern classic
Meanwhile, on my way to west Cork to check out happenings, I paid a visit to Da Mirco, an Italian Osteria, now in the former Star Anise premises on Bridge Street. It may be a new Italian restaurant in the city, but the eponymous Mirco Fondrini, who hails from Northern Italy, is a familiar face to many as he was the manager of the renowned Farmgate Café in the English Market for 13 years.
A traditional Italian Osteria serves simple food and good wine. Da Mirco, does all of that in a contemporary space. We'd had a long drive down, checked into the fabulous Hayfield Manor Hotel, and taken a taxi to Bridge St, so I was definitely in the market for a 'reviver'. They had a lovely list of aperitivi (€8/€9) – Vermouths, Prosecco, Campari, Aperol based et al. A Negroni Sbagliato – Campari, Martino Rosso, Prosecco (€9), was the drink of my dreams, which I savoured for ages, with a bowl of mixed olives (€3), as the poor waiter went back and forth looking for our order
Premium pastas
The menu is concise and the prices great. Antipasti included medium and large plates of charcuterie and cheeses at €15/€25. Bruscheta, plain with garlic EVOO is €4, or with fresh tomatoes, basil and green olive pate it's €7. My friend kicked off with a Tortino di Baccala (€9), a robust, tasty and filling square of baked potato cake incorporating a cod mousse. I had ravioloni (€8.50), which are larger pasta parcels than the usual ravioli squares. Featherlight and silky, this trio of pillows were enhanced with Gorgonzola and walnuts, on a light tomato sauce – they were absolutely delicious.
Pasta is king here – it's not a pizza world – with a couple of daily specials – including fish, meat or chicken. Three pasta dishes could be had for one or two people. Single portions are €13/€13.50 and double portions €24/€25. Tagliatelle with vodka and organic smoked salmon lost out to tagliatelle al ragu bianco for me, and casarecce alla puttanesca for my guest. Tagliatelle with a mixed-meat ragu (€13.50), had a rich and edgy taste enchanced by the addition of Italian sausage and pancetta to minced beef. Puttanesca sauce is basically tomato sauce with garlic, capers, olives and anchovies; there's not much cooking involved, and it's traditionally attributed to the ladies of the night who would rustle up a quick 'spaghetti alla puttanesca' before getting back to business! Da Mirco's version had capers and olives (€13.50), with anchovies for just €1 extra, and was a whopping bowl with tons of everything plus some chilli on the side.
Class by the glass
Desserts/Cakes were great value (€5/€7), and included tiramisu and Affogato – a scoop of gelato with a shot of espresso – or, if you prefer, in Marsala. It's great to be able to have a little shot, as it were, of Vin Santo or Marsala at €2.50 (a large one is €5.50), which my freind did with her salame di cioccolato with Chantilly cream (€5.50) – which was the perfect chocolate fix. My medium cheese board (€8.50) from Lombardy – available in a large size at €13 – was just fab with Taleggio, Capra Val Bregaglia, Casera and Bitto cheeses, as well as a slice of salami, chutney, walnuts and little circular hooped tarelli biscuits.
Da Mirco does wine by the 70ml taster glass; 150ml glass; 250ml carafes; and, of course, the bottle – it's all just so civilised. With a bottle of organic Sicilian Masseria del Fuedo Inzolia DOC 2017 (€35), two coffees (€5.50) and service, our bill came to €125.
Da Mirco
4 Bridge Street, Cork.
Tel: (021) 241-9480
damirco.ie
lucindaosullivan.com
First Published In The Sunday Independent