Restaurant Review - Layla's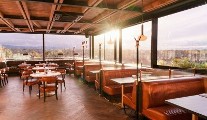 Wednesday 05 December 2018
It's the coolest place on earth", said an American man, shaking the manager's hand as he departed The Devlin Hotel in Ranelagh on its first night of opening. This bijou boutique hotel is the latest enterprise from the Press Up Group, which has some 30 plus properties in Dublin, including The Grayson, Angelina's and The Stella in Rathmines. Press Up Group also has The Dean Hotel on Harcourt Street, and the Devlin is similar in concept – with 40 "cosy" rooms, from €120 per night – Mod Pod, Super Pod, Bunk Pod and Tri Pod, all being no bigger than the old bedsit days of Ranelagh. Today, however, these rooms are plush pads with all the bells and whistles – Dyson hair dryers, Nespresso machines, Smeg fridges, Netflix, and Marshall amps for your tunes. But it's the level of artistic detail and finishes throughout the building that's amazing – stunning contemporary carpets on the corridors, Art Deco (almost Gotham City style) copper architraves on the lift doors, plus over 160 original art works by artists including James Earley, Dorothy Cross, Bridget Riley and Leah Hewson, as well as a bespoke Tracey Emin neon piece at reception, and a 40-seater cinema, The Stella Ranelagh, in the basement, where they serve food to your seat. It could also be described, as they do in France, as more a 'restaurant with rooms' than hotel because it's an eating and drinking establishment from top to bottom.

With a tiny check in desk, the ground floor is Americana, a gastrobar serving casual food, including a hot dog with fried onions, which doesn't strike me as the smell you want to first encounter as you arrive with your Louis Vuitton luggage.
Layla's on the top floor was our destination for dinner and the D6 redbrick brigade of all ages and sizes were out in force to check out this flash newcomer to the 'hood. Again, it's a gastrobar with chefs to the fore making pizzas and chargrilling, and it has a lovely glass fronted terrace. We were quickly ensconced in one of the 1950s-inspired tan-leather booths, which have views across the suburban roofs.
Cocktails major here, served in retro-style glasses, so my friend kicked off with a citrusy Sicilian Royal (€12) – Italicus Rosolio, St. Germain elderflower, cava, bergamot and grapefruit sorbet, while my Higgins, was a deeper blend of Muscat, Plantation Dark Rum and Schezuan green pepper (€12), which hit the spot.
Bearing my sole
All of the starters appealed (€9-€12.95) – in fact my friend had two starters and no mains. Fillet beef tacos were with radish salad and wasabi mayo; while sesame tofu was served with Asian greens, mangetout, a cashew nut salad, and mirin dressing. Chicken livers, winter mushroom, papardelle with sage and Marsala (€9.80) was an absolutely delicious dish, as was my very pretty plate of prosciutto (€10.50) with ribbons of lardo, figs, creamy burrata, rocket and apple balsamic.

Pizzas are €14-€16.50, while mains (€19-€24) including Iberico pork cheeks; seared hake; shrimp & crab rigatoni, all sounded good with various parings. A separate grill section includes stand alone steaks (€26/€30) – an 8oz fillet and 12/14oz rump; rib eye; and striploin. The market fish from the grill was sole on the bone (€36), which I had. It was beautifully presented, topped a delicious warm melange of fennel, capers, chillies, but once I removed this topping to get at the fish, I'm afraid the poor little chap was more akin to a slip sole, a mere teenager of the Dover sole family, and really bad value. The second starter my friend chose – tempura shrimp sweet pea and smoked pancetta risotto with Parmesan crisps (€11) – was again delish, as were Parmesan fries (€5.50), which we dived into.
Puds (€7.50/€7.95) were mainly chocolate based, while an Irish cheese board was €10, but we passed on both.
Wines are expensive, the entry level being on tap at €28 from Paddy McKillen's Chateau La Coste – after that it's onwards and upwards, as they say. However, it's a very clear list, and they do serve 500ml carafes. We went with a carafe, choosing a rather delicious and unusual Gruner Veltliner blend from a winemaker in the Czech Republic, Milan Nestarec, which is biodynamic, organic and vegan friendly, at €30.
Our bill with water (€6) and service came to €144.60.
Layla's
The Devlin
117-119 Ranelagh Road,
Dublin 6.
Tel: (01) 406-0182
thedevlin.ie
lucindaosullivan.com
First Published In The Sunday Independent