Restaurant Review - Del Fino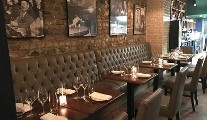 Wednesday 28 November 2018
Are you doing pizzas? I asked the waiter in the new Del-Fino on Camden Street. "No." he replied firmly. I was almost relieved. As the saying goes, everything tastes better between bread, but the Twitter spats and nonsense between those who should know better about the best pizza in town is becoming boring. They're all going on about the dough bases - thick, thin, risen, blackened, etc - but, in days of yore, when pizza was a cheap peasants meal, the doughy base was really supposed to be just for cooking what was on top, and carrying it around.
It's a quick easy option for a tasty carb fest, but a few fancy toppings doesn't make it a culinary experience. It's cheap as chips to make and mostly overpriced, which is why so many pizzerias are popping up left, right and centre.
Getting back to Del Fino, it's a smart eclectic New York style Italian restaurant with long-time Dublin chef/restaurateur Alan O'Reilly at the helm. Some of his ventures down the years have included Morels in Glasthule, Claret's in Blackrock, the Brown Thomas restaurants at one stage, Alexis in Dun Laoghaire and, more recently, Wildeside in Cabinteely. One thing that they've all had in common is good food, and our experience in Del Fino was the same.
It's taken the best part of a year and a bucket of cash to turn this building into it's sooper-dooper present form. For a very short period, it was a Moroccan restaurant, which didn't cut it. But now, there's a buzz, great music, comfy banquettes, great old Italian photos on the walls, and two lovely upstairs rooms – ideal also for small parties or gatherings.
I suppose if I say it's good to see a 'better class of restaurant' coming onto the street to counter balance the number of fast food and kebab joints opening, everyone will be jumping up and down in indignation - but it's a good thing. A broad church attracts more people, and there are some fab restaurants and cafes on Camden Street, and in the general area, including Hang Dai, Pickle, Delahunt, Camden Kitchen and Richmond.
Snacks are big right now, and are useful if you want nibbly starters. An eclectic selection (€4.50/€5.50) included house olives; crispy pork croquettes; fermented potato beignets with romesco; and kimchi deviled-eggs with chicken-skin crumble, which are useful if you just want nibbly starters. A basket of lovely breads also contained two little dipping dishes of olive oil and Himalayan pink salt.
Superb starters
Starters (€8.50/€14.50) all appealed. Calamari had fried padron peppers, marinara, and aioli; pork cheek was there with celeriac, hazelnuts and sherry vinegar; while scallops had a pea risotto and pan-crisped prosciutto. Three pasta dishes (€16.60/€18.50) – gnocchi with endive and 24-month Parmigiano; braised rabbit pappardelle; and fazzoletti e porcini – were also available in small portions, so I had a delicious little dish (€7.50) with porcini mushrooms topped with crispy funghi ostrica (oyster mushrooms). Mary's starter of 'wafu beef' (€13.50) was superb – overlapping wafer-thin rare sous-vide-cooked slices of Angus beef fillet on a long rectangular dish with a Japanese wafu fermented pimento dressing and pignoli (pine) nuts.
Mains ranged from pork shank osso bucco with gremolata (€18.50) to a cote de boeuf for two (€65). In between, beef short-rib was cooked in Barolo, and served with cavolo nero and mash. Spatchcock poussin was with labneh, preserved lemon and olives, while hake was with cannellini beans and 'nduja. Lobster Fra Diavolo (€36.50), a half lobster augmented with scallops and prawns in a rich sauce, was too good for me to miss, while Mary had a small portion of pappardelle (€8.50) tossed with braised rabbit, which she loved. With these we had sides of roasted beets, walnuts & Gorgonzola (€4.50) and herbed fries (€4.50).
In-house desserts, made by their pastry chef, were good value at €6.50, and included chocolate and passion fruit bomb, Millionaire Twix and a pear and caramel mousse. The wine list is excellent with a half dozen each red and white wines available by the glass. With three glasses of Verdicchio Fazi Battaglia Titulus (€32 by the bottle/€8 by the glass), our bill with a bottle of Aqua Panna (€4.50) and service, came to €113.50.
Who wants a pizza when you can eat like this?
Del-Fino
21 Camden Street Lower, Dublin 2.
Tel: (01) 441-3208
del-fino.ie
lucindaosullivan.com
First Published In The Sunday Independent