Restaurant Review - The River Club Grill Room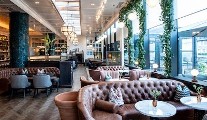 Wednesday 21 November 2018
I guess we didn't need any high-brow financial pundits to tell us that things were on the up – you only had to look a couple of years back at all the white 4x4s reappearing on the M50 and Cork's South Ring road, and the rate at which developers were applying for permission for new hotels.
Apart from new hotels, existing hotels are really upping their game with major renovations. Killarney's Dunloe Hotel re-opened recently with a massive party, having had an €18m refurb. Owned by the Leibherr Corporation, who've been in Killarney for 60 years, it's the sister hotel of the fabulous Europe Hotel, which overlooks the Lakes, and Ard na Sidhe at Caragh Lake. The eponymous Dunloe, on the other hand, has unprecedented views of the world famous Gap and has an Alpine feel with balconies holding pretty flower boxes overlooking beautiful Austrian Haflinger ponies on the lawns. The interiors are truly spectacular and they've just opened a spectacular Grill Room, which is a great addition to the Killarney dining scene.
The Westbury Hotel in Dublin did a complete revamp of their dining options a couple of years back adding Balfe's Bar & Brasserie, a favourite spot of Rory McIlroy when he's in town. They've also done a really great urban chic job on their fine dining restaurant Wilde's, in line with international trends. I was curious then to see what they'd done at their River Lee Hotel in Cork – like the Westbury, it's also part of the Doyle Collection.
The former restaurant, overlooking the river, has been transformed into the Mirror Room – a stunning neo-Georgian take with pillars, mirrors and wall panelling, adding depth to what is a modern building. They use this room for functions and breakfast; the buffet selection is served on a hunting table. The main bar and restaurant is now The River Club Bar & Grill Room, with a touch of 'Madrid meets New York', while the grill room itself is smart, classy and clubby with swirling leather banquettes, contemporary paintings, and a good buzz. All the latest Cork gossip will be discussed over the tables here – the latest business deal, the latest business collapse, the latest who's seeing whom. The chatter was loud when I settled into a corner with my friend Rena, where we were brought a board of lovely dips and bread including 'penny loaves'.
Sole food
Starters (€6.50-€15) included oysters with shallot vinaigrette; and gin cured organic salmon gravlax. Chicory salad was with blue cheese, poached pear and toasted walnuts, while rose veal carpaccio had watercress, truffle aioli and Parmesan. Rena had seared tuna (€9), which consisted of a four leaf clover of tuna rondelles, topped with ginger seaweed and blobs of miso, the perimeters were perfectly seared and the interior as rare as any tuna eating bod could wish – she was happy. Meanwhile, I was loving my pile of grilled gambas (€12), which were doused in hot spicy harissa and sitting on a bed of samphire.
Mains (€17-€40) had something for everyone, including fish & chips; a burger; grilled giant prawns; rack of lamb; fregola pasta; and steaks galore, right up to a 20oz Porterhouse. Rena followed up a spicy miso broth (€17) – a generous spicy bowl filled with soba noodles, chilli rings, sesame seeds, tofu and Asian greens. I, however, only had eyes for one thing – which had been winking at me before I ever got there – a whole Dover Sole with lemon and caper butter, which was a steal at €30. It was a fine handsome sole, seared on the outside, moist without being soft on the inside, sprinkled with capers, and served with caper butter, lemon and dressed leaves. A real treat. Sides included sweet potato and truffle fries, buttermilk onion rings, and mac 'n cheese. I had cauliflower & pomegranate (€4.50) – a good bowl of crunchy cauliflower florets keeping me off the carbs!
A tart tart
Desserts were good value too, at €7.50, and included warm chocolate pudding with salted caramel gelato; vanilla creme brulee; and a vegan raspberry & lime cheese cake. We shared a lovely classic lemon tart with a citrus creme fraiche.
The entry level for wines was €28 (€7 by the glass) and, with a bottle Picpoul de Pinet, Domain St. Anne 2017, from the Languedoc (€32), our bill with service came to €125.
The River Club Grill Room
The River Lee Hotel, Western Road, Cork.
Tel: (021) 425-2700
doylecollection.com
lucindaosullivan.com
First Published In The Sunday Independent