Restaurant Review - The Gastro Bar at Fade Street Social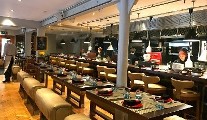 Wednesday 14 November 2018
Dylan McGrath burst onto our TV screens a decade ago in the fly-on-the-wall TV show Pressure Cooker, which followed the quest for a Michelin star at his Mint restaurant in Ranelagh. It was the era of obnoxious chefs shouting at kitchen staff, ramping it up for the cameras – Gordon Ramsay had the F Word, and Marco Pierre White did his bit in Hell's Kitchen. McGrath fitted the mould of the Irish glowering enfant terrible, indeed on my reviewing Mint he strutted down to my table and said "everybody was blown away by my food". Well, the Michelin man was suitably impressed and Mint did get a star, but it was the year Lehman's bank went bust, everyone put their money under their mattresses, and Mint closed.
He opened the more casual Rustic Stone on George's Street with business partner Vincent Melinn, adding the Japanese orientated Taste and the Bonsai Bar upstairs, as well as the nearby Fade Street Social. He also took part, with Nick Munier, in the Irish version of Masterchef. McGrath and Melinn are also opening Shelbourne Social, a massive 4,500 sq ft, restaurant in Ballsbridge next month.
Meanwhile, he has launched a new menu at his posh diner-style GastroBar on Fade St, with a press 'tasting' and beautiful pictures of the dishes. I don't do these sort of previews, so I went along one Friday evening for a visit with a friend instead.
The food is the way people want to eat nowadays – a few small plates – with the option of the larger plate for the steak man. However, lovely pictures and press tastings always look great, but, it's what arrives on your plate on the night, and whether it's value for money, that matters, and our experience was less than ideal.
Bland recognition
There was lots to choose from under a myriad of headings – Grill Charred, Braised, Carpaccio, Coated & Fried, Snacks, and To Share, with prices from €6-€36, including fried buttermilk quail drumsticks (€12); Chinese pork belly (€12.50); octopus (€19); and 6/8/10oz sirloin steaks at €25/€32/€36.
A brace of little crisped soft-shell crabs (€15) in sesame spiced flour, standing around a tiny dish of "miso mayonnaise, crab and tempura dipping sauce", didn't blow us away. Asking the waiter for a stronger sauce, we were told there was none. It was a bit like eating dried string, and I commented on the bland sauces to two of the floor staff, with one coming out with, "it's not to your taste – no one has ever complained before." If I'd a euro for every time I've heard that old jingle. It'sall my fault, certainly not their's. Truffle pasta (€10) with charred artichoke and Parmesan, on the other hand, was delicious.
Longing for lobster
We proceeded on with a small citrus glazed duck breast (€14) with pistachio, sesame, pickled mooli, and black grapes, which did what it said on the tin, and BLT lobster on toast (€15) with hollandaise, skinny fries and lobster mayo, which didn't.
The BLT was a trio of canape size croutons, each topped with cos, tomato, and an overblanket of mayo smothering the tiniest little morsel of lobster, not even half the size of the prongs of the fork. A far cry from the publicity pics, it felt such bad value, particularly as I'd had a half lobster and fries for €14 elsewhere.
All the while, vast trays of canapes were being walked past us to upstairs – there weren't very many Gastro Bar customers as such and it felt that our dishes were perhaps an afterthought. So, we passed on puds (€7.50/€8.50) – white chocolate mousse; baby banoffi et al. You're not going to get much for your money under €30 with wines – there were two reds and whites at €28/€29 - €8/€8.50 by the glass.
A page devoted to the ubiquitous Sauvignon Blancs started at €36 with their "Wordly Whites & Rieslings" kicking in at the same level, but, after that, the prices rocket upwards. Wine prices in Irish restaurants are really taking the sparkle from nights out – doing their damnedest to kill the golden goose all over again.
Anyway, they took the soft shell crab off the bill and, with a bottle of 'Worldly White' Spanish Mar Endins Garnatxa (Grenache) 2017 (€36), our bill with service came to €82.50.
The GastroBar at Fade Street Social,
4 Fade Street, Dublin 2.
Tel: (01) 604-0066
fadestreetsocial.com
lucindaosullivan.com
First Published In The Sunday Independent