Our Latest Great Place To Eat - Cafe Carleton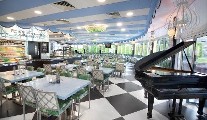 Friday 09 November 2018
The room itself is bold and elaborately stylish with a chequered floor and grand piano adding a delightful touch of whimsy to the décor of this spacious cafe. The interior at the Café Carleton was in fact designed by the famous Carleton Varney, who has left his mark on the interiors of landmark building all around the world, including the Donald's new digs in Washington.
The food at the Café Carleton is just the kind of lunchtime fare one desires after finally dropping from all that shopping, and lots of vegetarian and vegan dishes available too. They also do their own range of jams and chutneys too.
Their sandwich and cold counter menu has all sorts of tasty bits to revive you, and, on our visit, there was smashed potato with hummus, Parmesan, avocado; smoked salmon on brown bread with a salmon and dill pate, capers and red onion; as well as a cob sandwich with smoked bacon, watercress, beef tomato and avocado. Focaccia bread was there with ham, cheddar cheese, rocket and tomato; not to mention a spinach broccoli gateau. Their lunch menu featured, to start, a salmon Buddha bowl, along with a goats cheese wrap with roasted red pepper scallions and tomato sauce. Rena went for their pumpkin and sage soup, a warm and tasty bowl, while I kicked things off with a delicious quiche of goat's cheese, figs, honey and thyme.
The mains here change regularly, but, on our visit, chicken supreme was on offer with black pudding and a polenta crust, while a vegetarian option had pumpkin with feta, hazelnuts and tandoori yoghurt dukkah. Rena went for a splendid dish of sea-bass, adorned with Parma ham and harissa, which she loved. While I, on the other hand, was more than happy with a fresh and tasty chicken Caesar salad from their cold counter menu.