Restaurant Review - Chestnut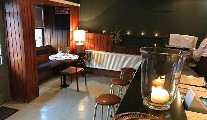 Wednesday 07 November 2018
Maybe I got a vibe, but when Michelin announced their Bib Gourmands 2019, the week before its new Stars, not seeing any mention of three of the most talked about Irish restaurants of the past year – Chestnut in Ballydehob; Mews in Baltimore; and Ichigo Ichie in Cork – I tweeted "unless they're getting Stars". And indeed, the Rebel County was on fire the following week, when Michelin deigned to award Stars to all three. Many places here should have Bibs, if not Stars. Were they in the U.K. or France they would. It costs money to have inspectors on the road and I believe that, having read up before they come, they hone in on a few places within an area and are gone back to Blighty in a puff of smoke. Now that I've bitched about Michelin, let's get on with celebrating the lucky ones – who are now on the nerve-wracking treadmill of 'keeping the star'!
A nut to crack
I reviewed Ichigo Ichie when it opened in April and Mews in Baltimore in scorching hot August. However, with the Cork yachty crowd abroad in West Cork, I couldn't get a table in Rob Krawczyk's 18-seater Chestnut, up the road in Ballydehob, over the summer. There was nothing for it but to hit the road again to see what was causing all the excitement. Set in a quirky former pub, it has two floors overhead with potential to extend or offer accommodation, which is in very short supply in the area.
I'd had Krawczyk's food previously in Tankardstown House, so I thought I had his measure, but what we experienced was the evolution of the man in his own surroundings, with an excursion through the fields, forests, flora, fauna and oceans of west Cork – all portrayed on a plate in an extraordinarily elegant and delicate progression of exquisite colours and contrasts of flavour and textures.
Elaine Fleming, his partner, also ex Tankardstown, is front of house, taking us serenely through the 8-course Tasting Menu (€65), and preceding 'snacks'. They also do a 3-course menu at €50 – but if you're making the pilgrimage….
Magical mystery tour
Robust tranches of warm crunchy spelt and a miniature soda breads came with oak smoked butter topped with gold leaf infused sea salt - an extravagant playful start to a magical mystery tour. Two sushi-size parcels of whipped goats cheese, wrapped in thin layers of celeriac, and topped with grated Cashel Blue, were followed by a Provencal-style crispy brandade balls topped with lacquer-black squid-ink mustard mayo.
We were then into the main events with a colourful melange of mussels, seaweed and tapioca, served with micro herbs and caviar. "How can he top that?" I thought, but the perfection just went on, in the form of seared silky king scallops, which were dressed with wafer-thin slices of cauliflower, squid ink, nasturtiums and hibiscus.
A palate cleanser of vibrant green gin and cucumber fine granite was off set by a soft sabayon froth of lemon verbena making way for crisply seared silky nuggets of brill, which featured contrasting tones of green puree and emulsion of courgette and dill, all topped with a rich green crispy kale feather. Game galloped onto a black plate by way of tender very rare venison rondelles reflecting the autumn hills of West Cork, with a quenelle of very fine ratatouille, a smoked celery root and a celeriac puree.
The sweet treats kicked off with a pre-dessert of strawberries, creamed goats cheese blobbettes and sand textured celery granite. The simplest pile of creamy yoghurt followed, artfully concealing its blackberries and the oh-so-subtle flavouring of cloves. A masterclass in stunning simplicity. We finished up with Young Buck cheese, which was dripping honey and pollen.
Wines are modestly priced and, with a bottle of Bender Paulessen 2016 Riesling (€34) and two extra glasses (€8 each), bottled water (€4.50), our bill with service came to €204.50. It's the best food I've had in a very long time, and an absolute snip for what we experienced.
We found accommodation in the area limited, so we stayed about seven kilometres away in the recently re-opened Schull Harbour Hotel where bed and breakfast for two in a seaview room was €125, and from where a local taxi took us back and forth.
Restaurant Chestnut
Staball Hill, Ballydehob, West Cork.
Tel: (028) 257-66
restaurantchestnutwestcork.ie
lucindaosullivan.com
First Published In The Sunday Independent