Restaurant Review - The Carriage House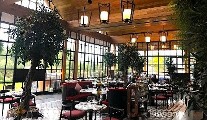 Wednesday 31 October 2018
Adare is an outrageously pretty village outside Limerick dominated by it's jewel in the crown, Adare Manor, the former home of the Earls of Dunraven. We are only in the ha'penny place compared to the aristocrats of yore when it came to the adornment of their abodes – They trawled the chateaux of France, and castles of Italy, seeking inspiration to impress their counterparts.
The Dunravens' were apparently exuberant, witty, and stylish, and they certainly lived up to their reputation when building their 'new house', the chateau style Adare Manor in 1832. They bedecked it with gargoyles, mythical beasts, heraldry and a Gallery – 132 feet long with a 26 feet high expanse – inspired by the Hall of Mirrors in Versailles, adding 17th C Flemish choir stalls on either side for good measure. It's also a rare example of a Calendar House, with 365 leaded windows, 52 ornate chimneys, and 4 towers to mark the annual tally of days, weeks, and seasons in the year. Spanning 840 acres, the estate had to be serviced and maintained, and out of this grew the village of Adare.
Like everywhere else, Adare Manor felt the pinch during the downturn but salvation came when it was bought a couple of years ago for a reported €40m by racehorse owner J.P. McManus. Taking the spirit of the Dunravens to heart, he's spent millions on it, making it one of the finest resorts in the world. Now employing over 500 people, it will attract celebs and big bucks from around the world, which is wonderful for the local area.
When it first re-opened its doors last year, it was overrun with bloggers and journos on the back of invitations, eulogising the bedrooms, and gushing about the kitchens and fine dining. I decided to wait until their more casual dining element, The Carriage House, opened, feeling it would be more relevant to a lot of Irish people who might like to see how the other half live, without being into really big bucks. "Who wants to be a millionaire", from the old Bing Crosby, Grace Kelly movie, High Society, came to mind as the jolly gatekeeper gave us the once over before directing us up to the 'roundabout' through lawns that are manicured to within an inch of their lives.
High Society
The Carriage House is in its own enclave of houses, but once you walk through the door and up the richly carpeted staircase – and oh the loos – you are into a really splendid conservatory with a grill room leading off, all preceded by a clubby-style anteroom and bar.
The lunch menu is reasonably priced, including pizzas (€15-€17), a trio of burgers (€19-€21), and mains and grills (€18-€30) ranging from bacon & cabbage; chicken pot pie; or fish & chips; to fillet, sirloin and ribeye steaks.
"It's easy to see how the rich can stay thin, if you'd someone to knock this up for you every day", said Rena of her King Crab (€18), pictured below, a delicious salad of the expensive Alaskan crustacean with avocado, datterini tomatoes and mesclun leaves. I had a Dublin Bay prawn cocktail (€16) which was not served in the traditional glass, but an equally clean cut display nonetheless. The prawns were set on cos lettuce, with lime, quail egg, hazelnuts and Marie Rose, along with little jugs of extra sauce – a nice touch.
Rena followed up with roasted butternut squash risotto (€16) with goats cheese, fried sage and garlic oil. Risotto can be tricky but this golden melange was perfectly cooked, her only comment being that she'd have liked some of the squash in pieces rather than a total blend. My delicious pan-fried sea bass (€26), had the skin crisped and the flesh moist, resting on a bean, chorizo and hazelnut cassoulet with a herb butter sauce.
Wallowing in Champagne
Their divine desserts were really good value (€7/9). Rena's banoffee (€7), an elegant, featherweight rectangle of banana and caramel mousse topped with piped rosettes, consisted of caramelised banana, creme brulee and Bailey's ice-cream. My extravagantly gorgeous Berry Sabayon (€7) had a huge fluff of Champagne sabayon and a quenelle of orange sorbet.
Passing on coffee, our bill, with two large bottles of Acqua Panna (€6.50 each), and excellent service, came to €116.
We could've stayed in JP's paddock forever, but we saddled up and hit the road.
The Carriage House
Adare Manor, Adare, Co. Limerick.
Tel: (061) 605-200
adaremanor.com
First Published In The Sunday Independent
lucindaosullivan.com