Restaurant Review - The Dalkey Duck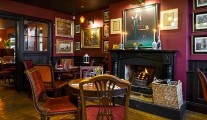 Wednesday 24 October 2018
Last year, the long-standing McDonagh's pub in Dalkey was taken over by Dublin businessman and actor Gary Whelan, who has combined a theatrical career (Ballykissangel, Eastenders, The Bill) with developing pubs, including at one stage the renowned Whelan's of Wexford Street, which he subsequently sold.
His new gastropub, the former McDonagh's, now with the moniker of The Dalkey Duck, drew my interest with tweets as to their great grub, so, I headed up pronto en famille, including my broken-legged son, complete with plaster, who hobbled in and ensconced himself at a table. No sooner were we all in place, and wondering why it
was practically empty, when a familiar restaurant industry front of house face walked over and introduced himself. So, my cover was instantly blown.
The menu was very basic and just didn't cut the mustard. Digging deeper, it emerged that they were awaiting the arrival of a chef and had been a 'bit previous' in hitting the Twitter sphere. We departed with son hobbling behind grumbling that he wouldn't have minded a burger...
Taking flight
I was out for the night with a gal pal recently; we checked the menus outside the Duck and it seemed like they'd finally got their act together — and they most certainly had. It has a really warm welcoming feel with lots of brilliant snugs to tuck yourself into and watch the regulars at the bar. Kristan Burness, who has also worked in city centre restaurants over the past few years is now the head chef — and, believe me, he knows his food.
Aperitifs included Veueve Clicquot Champagne by the glass (€14) and a Mimosa/Aperol Spritz (€10.50) with Carlingford oysters (€14) or Moscardini — braised baby octopus (€6). We held off on the Champers but ordered a bottle of wine, along with the baby octopus, while we took in the menu.
It was a Wednesday, and, as well as an a la carte, there was prix fixe 2/3 course menu at €20/€24, which runs from Tuesday to Thursday 6-8pm with, hold on to your hats guys, all wines half price! This applied even if only one diner went for the prix fixe, and the other went a la carte. So, this was the route we took. Appetisers (€4.50-€12) included a surf clam and salt cod chowder with stout bread; and ham-hock & foie gras terrine, sauce gribiche and sourdough. My friend started her prix fixe with a beautifully presented balsamic roasted beetroot plate with Fivemiletown goats cheese and candied walnuts (€9.50 on the alc),
while I was also totally impressed with my grilled fillets of red mullet (€9.50), which had replaced mackerel as a starter, on sourdough toast with a sauce vierge.
Grand prix
Mains from the a la carte menu (€18-€27) included fish 'n chips; chicken and ham pie; bouillabaisse; wild mushroom risotto; a Dexter burger; plus two specials — an Angus striploin with cafe de Paris butter, fries and salad at €22 plus a half or whole lobster with garlic butter, fries and salad, and the knockdown price of €14/€28 — a bit of a no brainer as far as we were concerned.
The bouillabaisse (€22.50 on the a la carte menu) 
also featured on the prix fixe and was a sophisticated and delicious presentation with red mullet, hake, mussels, a pistou crouton and samphire. Again, a whole lobster (€28) was elegantly presented, with claws de-shelled, dripping in garlic butter and chargrilled lemon and served with lovely crispy fries. It was far superior to the €48 lobster I'd received at The Ivy, and I was spared any of the ridiculous hassle I'd experienced there trying to have it shelled.
Mary had a lovely duck egg and vanilla creme brulee with a little dish of strawberries and Italian cantucci biscuits.
The Duck's bill
We had an excellent bottle of German Wittmann 100 Hills Dry Riesling 2016
at €36, which, as you can imagine, tasted all the better at the €18 we were charged. It was deliciously light and citrusy with undertones of honey and orange blossom.
Our bill for all of this with a bottle of still water (€2.80) and service came to €97.80. And, as if all of this wasn't enough, the band arrived and started rocking it out. Was this really a wet Wednesday night in SoCoDu — or did I dream it all?
The Dalkey Duck

61 Castle Street,
Dalkey,
Co. Dublin.
Tel: (01) 552-8605

thedalkeyduck.ie
lucindaosullivan.com
First Published In The Sunday Independent