Restaurant Review - Gourmet Food Parlour Skerries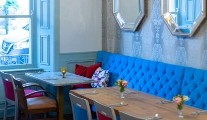 Wednesday 17 October 2018
Somehow or other, the success of Lorraine Heskin and Lorraine Byrne's Gourmet Food Parlour operation reminds me of the Mel Gibson movie What Women Want, where a cocky chauvinistic advertising type is brought to heel by his female boss and goes through a series of hilarious scenes where he tries out various women's products to win an advertising promotion. I doubt, however, that in 2006, when the two Lorraines opened a small cafe called the Gourmet Food Parlour, in the not so hip end of Dun Laoghaire, opposite the labour exchange, they dared dream that a dozen years later they'd be heading up a major operation. Today, this operation comprises 10 restaurants and a huge catering division for parties and weddings, feeding TV & Film crews, and specialising in nutritionally balanced foods for sports events.
I often say that it's the woman in a relationship who chooses the restaurant, the guy generally leaves it up to her on the basis of 'once she's happy'. These two women are focused and driven, and, very importantly, have always sung off the same hymn sheet and they certainly know what women want. At the first GFP, they provided the type of really good casual food in comfortable, colourful interiors, that soon had people queuing up on Cumberland Street for a table.
Both Lorraines live in north county Dublin, so they knew where the gaps for their restaurants were along the East Coast. Soon they were expanding their brand, first in Swords, then Malahide and on to Santry. They later moved into Dublin city providing the food at House on Leeson Street. In their start-out point of Dun Laoghaire, they relocated and upsized to a smart unit opposite the DART station.
Most of this growth was achieved through the recessionary years, so they really had their formula right. Their latest GFP branch is the seaside town of Skerries, but they've also crossed to the west coast, where they're shortly opening in Salthill, Galway.
Summers in Skerries
Their latest Dublin opening gave me the perfect excuse to traverse Dublin Bay and head up to Skerries on a nostalgic journey one fine sunny day. Skerries is a place I'm particularly fond of, having spent childhood holidays there when the parents took a 'summer's lease' each June. They were long days of beach, playing 'pongo', and my father nipping into the Stoop Your Head pub while mother bought great big Dublin Bay prawns from the fishing boats. Dad would emerge with a smile on his face as we took our 'catch' home, threw them in a pot of boiling water, and just ate them with salt.
The Skerries GFP is located in a double-fronted house, and was packed on our arrival. Again, the decor is colourful with, as my friend Rena remarked, the feel of a buzzy wine bar. The food is broadly Mediterranean with something for everyone, size-wise and price-wise, at all times of the day – and portions are very generous.
The lunchtime menu featured 'posh' sandwiches (€8/€8.50) in wonderful breads – ciabatta, Bretzel granary, sourdough, tortilla wraps, filled with combos from Turkey Reuben to goat's cheese to tuna. Salads (€13) included superfood; flambe prawn; Caesar, and Clonakilty black pudding.
Mains (€14- €16) covered steak sambos, fish 'n chips, burger in a bowl, and wings. We shared a chunky tasty toasted vegan wrap (€8) filled with couscous, hummus, rocket, and roasted red peppers. Rena followed with a 3 bean Thai red curry (€14) with rice – to which you could add chicken or prawns for €2/€3 extra. She doesn't like anything too hot and it fitted the bill perfectly with light aromatic flavours.
I had the pasta of the day, which was also right up my alley, being tagliatelle (€11.95). It was delicious with chorizo and peppers, to which I added prawns (€2 supp).
We had a real carb fest indulging in their legendary patatas bravas (€5.50), and with a glass of Butcher's Block red wine for Rena (€7), Coke (€2.50) and water (€1) for me, our bill with service came to €56.95.
By the way, look out for their 'Bottomless Prosecco' for €12pp from 5pm in Swords, Dun Laoghaire, Santry & Skerries. It's what women want....and men too.
Gourmet Food Parlour
67 Church Street,
Skerries,
Co. Dublin.
Tel: (01) 539-0570
gourmetfoodparlour.com
lucindaosullivan.com
First Published In The Sunday Indpeendent