Restaurant Review - Crow Street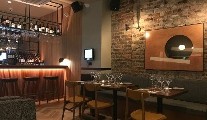 Wednesday 10 October 2018
There are lots of restaurants with good food and service, but that doesn't always make them financially successful. Is it all down to location location location? Are the burbs more difficult to crack than the city, not having the same passing trade and depending on keeping their local clientele happy? I've been asking this recently following the closure of a number of southside neighbourhood restaurants – La Plancha in Monkstown, Sivad in Leopardstown, Farmhill in Goatstown, the Roly Saul Restaurant in Dundrum (not connected to Roly's Bistro in Ballsbridge). Dunne & Crescenzi closed its Blackrock Shopping Centre branch due to operational difficulties with ongoing building works there. Feast has relocated to Golden Lane from Dun Laoghaire – and others are teetering on the brink.
It's interesting too that David Coffey and Damien Quinn, who co-own The Sussex Restaurant over O'Brien's pub on Upper Leeson Street and The 105 Cafe Bistro in Clonskeagh, have headed to bustling Temple Bar for their third restaurant, the eponymous Crow Street, located in what was Nick Munier's short-lived Avenue.
A 3-storey over-basement building, it's an ambitious project, with two dining areas on the ground floor, a parlour and taproom upstairs serving small plates and vintage cocktails. We really liked the new decor, with exposed-brick walls, parquet flooring, banquettes, stylish furnishings and tableware. It had a warm glow that would draw wandering tourists in – it reminded me of a place we'd drifted into on a side street in Paris.
Opening night
We arrived on its first evening, and while one does make allowances, the food which, they say, aims to fuse "foot-stompin" Southern American food with traditional Irish fare, was sadly more confused than fused. "Irish soulfood" it was not. Starters (€8-€11.95) included the ubiquitous calamari; spicy chicken wings; Manhattan seafood chowder; and a terrine of ham hock & black pudding.
Seafood cobbler (€10.95) was an okay white fish and mussel melange in a leek cream, but a misnomer. A cobbler should have a thick almost biscuit-like pastry 'cobbles' crust – this was a crumble. Grilled Macroom buffalo halloumi (€8), was billed with caponata and crispy potato rosti. Again, there was no sign of a rosti but a tian of colcannon (which featured with another dish). It's better to advise people if one is substituting components rather than taking a flyer.
As the Crow fries
Mains (€15.50-€27) included a trio of salads including a flat-iron steak salad with baby gem, chicory, tarragon mushrooms, Parmesan, and sourdough croute; and a superfood salad with sweet potato hummus, pickled red cabbage; and an Asian veg and glass noodle salad.
Hot dishes included a burger with Dubliner cheddar and smoked tomato chutney; a 9-oz rib-eye steak with colcannon boxty, Rioja jus; sticky pork ribs; and crispy lamb shoulder with crushed sweet potato and rosemary jus.
The main nod to Southern American grub that we saw was crispy fried buttermilk chicken, which could be had as a 'full pile' at €20 or a 'half pile' at €15. The friend's half pile, with kimchi, red slaw and a ranch dressing, was as exciting as that bemoaned on the political rubber chicken circuit. Monkfish scampi (€19) on a pea guacamole sludge -oh why for God's sake - and 'hand cut' chips, was flat and disappointing. The 'scampi' resembled fish 'nuggets' rather than the effervescent joyous frothiness that is deep-fried scampi, while the "hand cut" chips smacked more of a commercial variety – a side of chili and tamari greens (€4) was the best part!
Making a change
Their ice-cream machine "hadn't arrived", so we shared a small tranch of Belgian chocolate tart (€8). The drinks list is extensive, lots of wines, spirits, beer & cider, cocktails and soft drinks. A 500ml carafe of Australian, Clare Valley, Wakefield Estate Riesling (€28.50), with water (€5), one Americano (€2.90) and service, brought our bill to €111.35.
It was clear the food needed a lot of sharpening up so perhaps it was no surprise to receive an email a week later to say "we have changed our Head Chef since your visit and will be making changes to our menus."
Crow Street
No 1 Crow Street,
Temple Bar, Dublin. 2.
Tel: (01) 441-1588
crowstreet.ie
lucindaosullivan.com
First Published In The Sunday Independent